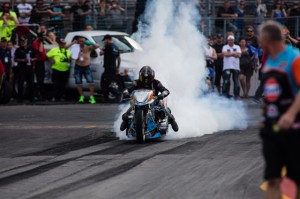 The Gulf Oil Dragracing – Grand Prix Originals team headed to the penultimate race of the 2014 FIM European Dragracing Championship with some trepidation.
Despite its status as the biggest event on the European tour with an estimated 50,000 spectators in attendance, reports of over aggressive cleaning of the Hockenheim track to meet the demands of the recent Formula 1 race had once again significantly reduced the traction available that did not bode well for the 1500HP Puma machine.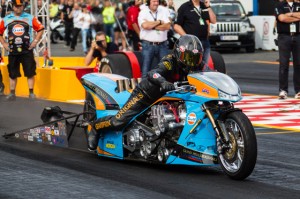 In addition, Manufacturers Cup promoter and race director Jay Regan and his brother Gunster from the USA were guests of the team who were eager not to disappoint their illustrious friends from `across the pond'.
The team was on a winning streak extending back to European season opener in 2013 and despite the traction problems experienced by almost all car and bike competitors the team used all of their experience gleaned whilst racing and showing on marginal tracks across the globe to win low qualifier, low ET and event win honors with the added bonus of a `Best Appearing Bike' trophy.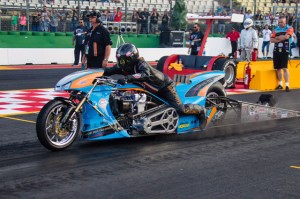 Not only that but the team gained an official timing ticket that reported a 252mph terminal that would put them in second place in the all time fastest list. The team had made gearbox and sprocket changes for the race with overall gearing for speed but their data logging did not concur and so they remain skeptical as to the validity of the timing ticket. Further passes of 235.97mph and 232.16mph did not back up this `record' under current regulations and just missed the existing record by one kilometer (with the two `slower' speeds under the 1% rule backup rule) so a new record for the team would have to wait.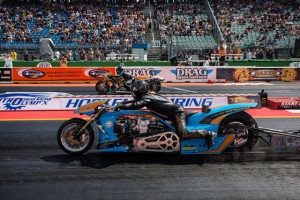 King's opponent in the final (and also alongside King when he came flying past on the debated high speed) was Greek rider Filippos Papafilippou, now back on his nitrous PXM ride. Fast Fil had qualified in a creditable 2nd place running 198.26 mph on a 6.813 for second spot on the ladder and a new TS best for a nitrous funny bike in Europe. Despite his great weekend, Fil was no match for King's event winning 6.461 secs.
Pictures courtesy of Ivan Sansom, Rose Hughes and Andy Wilsheer.
For more information about Gulf Oil Dragracing go to www.gulfoildragracing.com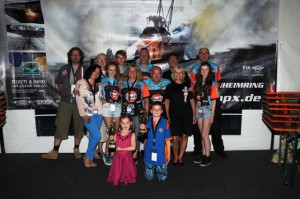 The Gulf Oil – GPO Dragracing team uses and endorses exclusively Gulf Oil greases and lubricants in their history making machine. The team is extremely proud to be supported by many leaders in their chosen markets in winning the 2013 European Championship and in their 2014 endeavours:-
APE – The world's most innovative manufacturer of aftermarket parts for race bikes
ACTION CAMERAS – Europe's leading source for action sports cameras
BLACKCAT MOTORSPORTS – The leading V Rod Harley race team
COMETIC GASKETS – The Premier Manufacturer of racing gaskets
GATES – The world's most trusted name in drive belts, hoses and hydraulics
GOODRIDGE – The most innovative and the best in fluid transfer systems
GRAND PRIX ORIGINALS – The brand for drive and lifestyle, past and present
GULF OIL INTERNATIONAL – The world's most iconic brand in automotive fuels and lubricants
GRAPHITE ADDITIVE MANUFACTURING – A leader in 3D printed technologies and rapid prototyping
HOTROD HANGAR – Home of the world renowned custom artist Knud Tiroch
HYPERPRO – The leading producer of progressive suspension products for motor bikes
JE PISTONS – The world's premier manufacturer of high performance forged pistons
JOHN AND DEA MORGAN RACING – The creators of the world's most advanced New Age Funnybike
KIBBLEWHITE PRECISION MACHINING – The highest quality valve train components available
KING RACING – The most successful Top Fuel Bike team in European Dragracing
MICKEY THOMPSON – Simply the best drag race tyres in the world
MRE – Leaders in trackside support for drag race components and air shifting systems
MTC ENGINEERING – Manufacturer of clutches for the fastest motorcycles in the world
NITROSHUTTER – Europe's leading dragracing photojournalists
NCTENGINEERING – Manufacturer of the world's leading non-contact motorsport torque sensors
NGK SPARKPLUGS UK – The world's number one spark plug manufacturer
PAR WILLEN – Master webmeister and proprietor of HarleyDrags.com
PORTABLE SHADE – The best custom branded collapsible canopies available
PRO ALLOY MOTORSPORT – The UK's leading fabricator of alloy tanks, intercoolers and radiators
PUMA ENGINEERING – Manufacturer of the world's most powerful motorcycle engines
RSG CUSTOMIZE – The UK's most creative website designers and vinyl artists
SUPERTOUGH – Custom cases and covers for the Film, TV, Music and Motorsports Industries
SPIES HECKER – the world's leading supplier of paint for car, commercial and industrial finishing.
VAN ES MOBILITY – The leading manufacturer of telematic products for management of moving objects
VANSON LEATHERS – The most iconic brand in motorsport leather goods
WEB CAMSHAFTS INC – Simply THE company for Top Fuel Bike camshafts
WORLDWIDE BEARINGS – The world's leading supplier of ceramic bearings for racing
ZODIAC – Europe's largest supplier of performance and aftermarket HD parts