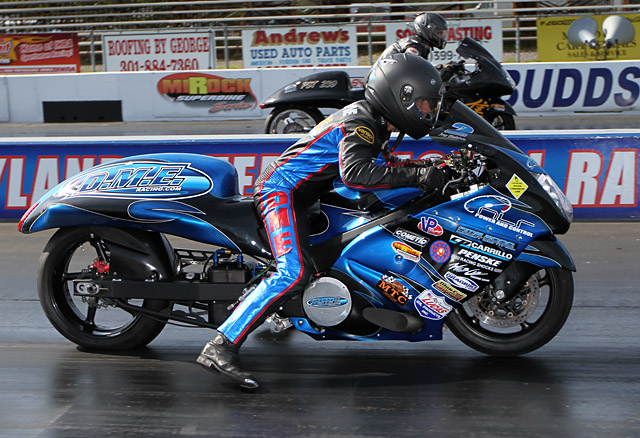 DME Racing owner Dimey Eddinger, rider Joey Gladstone, tuner Andy Sawyer and the rest of the team are bringing their MPH record-setting performance back to Maryland International Raceway on May 31-June 2 for the next MIRock Superbike Series event.
Always posting big numbers in Orient Express Pro Street with their turbocharged Suzuki Hayabusa, Team DME pushed through the traps a little harder last time out at MIR with a 213.87 mph blast. They also took home the winner's trophy, their second of the year after opening the season with a win at Bradenton. That Florida win followed a dramatic crash in testing at Maryland and a quick thrash and rebuild of the bike.
The April final at MIR boiled down to Gladstone and rival Rodney Williford, the three-time Pro Street champ. You could hear Rodney pedaling the throttle on the big end, but not Gladstone and his beautifully set-up DME Hayabusa. He kept the throttle pinned and took the final, capping a great comeback for Joey and the DME team at the site of their crash.
The win was doubly special for young Gladstone, who slayed a dragon but lost a good friend in a motorcycle street crash earlier on raceday. "Going back to Maryland was a little eerie to say the least," said Joey. "It is by far my favorite track to race at but lining up in the right lane definitely brought back the memories of what happened and reminded me of how easily things can happen.
"However the thought of the crash intensified Sunday morning after I received a phone call 5 minutes before second round telling me a good friend of mine was killed in a motorcycle accident early that morning. After the call it was by far the hardest raceday I've been up against. Not because of the competition or the bike or anything like that, just because I couldn't seem to focus myself whatsoever. But I know he was with me. I believe this so much that I put the trophy in his casket the next day. His trophy, not mine."
You can hear Gladstone and Eddinger talk about the race, the crash, and the team in this video:http://www.youtube.com/watch?v=154_ZSVpO44&feature=youtu.be
Joey Gladstone and Dimey Eddinger thank DME Racing http://www.dmeracing.com/ , Penske Shocks http://www.penskeshocks.com/ , Catalyst Racing Composites http://www.catalystracingcomposites.com/ , NLR http://www.nlrsystems.com/ , Vanson Leathers http://www.vansonleathers.com/ , Lucas Oil http://www.lucasoil.com/ , and CP/Carillo http://www.cp-carrillo.com/
Spring Nationals results: http://www.mirockracing.com/results/2013/race2-mir/sunday/ORIENT_EXPRESS_PRO_STREET_2013-04-28.html
Find out more about the Mickey Thompson Performance Tires MIRock Superbike Series at http://www.mirockracing.com
This report was prepared by Tim Hailey. Enjoy everything there is to read, see and watch about motorcycle drag racing and more at http://www.eatmyink.com
-end-
High-res images for editorial use are available by e-mailing timhailey@earthlink.net