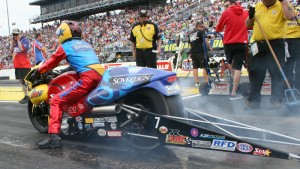 After a five-week break between NHRA Mello Yello Series races, the Sovereign-Star Racing team expects to return strong this weekend, May 31-June 2, at the Toyota NHRA Summernationals at Old Bridge Township Raceway Park in Englishtown, N.J.
Prior to this long hiatus, Sovereign-Star Racing's Scotty Pollacheck advanced to the final round of eliminations at back-to-back races in Charlotte and Houston, moving him to a solid No. 2 position in the points standings. His teammate, Michael Ray, also made his way into the top ten after a strong performance in Houston where he advanced to the semifinals against Pollacheck.
The Sovereign-Star Racing team expects to see even more power on the racetrack for their Buell motorcycles after having a few weeks off to fine tune and test their S&S-powered engine program.
"We had a chance to try lots of things that you can't normally try when you have back-to-back races," Star Racing owner George Bryce said. "There are also some things that we wanted to try last year and now is the time to try it. The ideas that we dreamed up at the beginning of the year are starting to come together now. Through all of this, we were rewarded with some changes that should show positively on the scoreboard."
The team's recent final round appearances against No. 1 Hector Arana Jr., who is undefeated in 2013, has also fueled the Sovereign teammates' enthusiasm and confidence.
"It feels like we have better experience now, having been to couple of finals," Pollacheck said. "It helps us a little bit more knowing what to expect, and it's more familiar. I think it gives us more confidence since we know we can do it because we've done it before."
Ray said, "We really hit on something in Houston that turned my bike 180 degrees in a positive direction. We had low ET of the meet in Houston. As long as I drive well and the crew continues to give me the awesome bike that they have all season, I think Hector Jr. and the other teams out there need to watch out for Scotty and me on Sunday."
As team owner and chief tuner, Bryce realizes how close his racers have come to taking home a Wally at the last few races and hopes to see their hard work pay off on the scoreboard this weekend at Englishtown.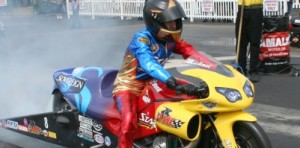 "We just want to do as good as we've been doing, because obviously we know how to go all the rounds on Sunday now. We had two bikes go seven rounds at Houston, and if they have a little more performance we may do even better," Bryce said.
Although a long break is beneficial for the crew's engine program, it presents new challenges for the racers as they try to keep their focus on racing while away from the track.
"That part is kind of hard. You go to two races in a row and then have a month off. It's kind of a crazy schedule. When I'm at home, I can go over runs in my mind and work on the practice tree. If you do those kinds of things, that definitely helps keep you in racing mode," Pollacheck said.
"Since we've had a lot of time off from racing NHRA, I've been going out to my hometown track on Wednesday nights and really gone back to the roots of what made me love drag racing to begin with, just making passes, having fun and not worrying about trophies and all the hype. I couldn't mentally be more ready to come back out and just going riding," Ray said.
The Sovereign-Star Racing Pro Stock Motorcycle teammates will compete this weekend, May 31-June 2, at the Toyota NHRA Summernationals at Old Bridge Township Raceway Park in Englishtown, N.J. Television coverage will begin with qualifying from 5-6 p.m. (ET) June 1 on ESPN and eliminations from 4:30-7 p.m. (ET) June 2 on ESPN2.
The 2013 Sovereign-Star Racing Team is a partnership between Georgia-based Star Racing and the Hungarian-based Sovereign Racing Team, the 2011 UEM European Pro Stock Bike Championship Team, owned by sugar distributor Jenõ Rujp.
The Sovereign-Star Racing Team would like to thank the following sponsors: Sovereign, Star Racing, Americus Motorsports Complex, S&S Cycle, Daytona Sensors, Worldwide Bearings, CP Pistons, Cometic Gaskets, Quality Tire, and Uncle Hal Gottspeed Racing.
Star Racing Fast Facts:
·         Based in Americus, Georgia
·         Six-time NHRA Pro Stock Motorcycle Championships
·         78 NHRA national event wins with nine different riders
·         Owned by George & Jackie Bryce
Sovereign Racing Team Fast Facts:
·         Based in Budapest, Hungary
·         2011 European UEM Championship Team with rider Jesper Thiel
·         Owned by Jeno Rujp
Scotty Pollacheck Fast Facts:
·         From: Medford, Oregon
·         Job: Owns "Quality Tire" store
·         Years in drag racing: 27
Michael Ray Fast Facts:
·         From: New Braunfels, Texas
·         Job: Harley-Davidson Motorcycle Salesman
·         Years in drag racing: 11
Contact:                Jami Houston
Marketing and Public Relations
Star Racing
229-94-0031
1-800-841-STAR
starracing.com
americusmotorsportscomplex.com