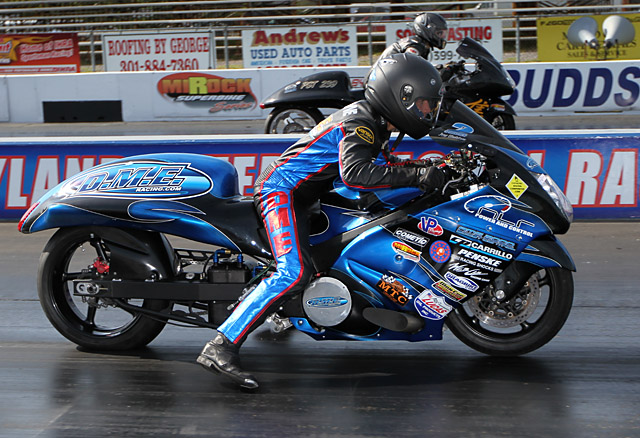 The stars of the Mickey Thompson MIRock Superbike Series return to action May 31-June 2 for the Fast By Gast Summer Nationals at Maryland International Raceway in Budd's Creek, MD. And with the $10,000 Pro Street "Battle Royale" coming up in October, the weather for this event might be the last best chance teams have to prepare for that big autumn payday.
And so the spotlight will be on MIRock's marquee class—Orient Express Pro Street. Three-time champ Rodney Williford and DME Racing's Joey Gladstone are the usual favorites, but upstart rider Doug Gall won the Rockingham opener and another race at a different series and is poised to spoil either or both Williford and Gladstone's march to the championship.
Gladstone eclipsed the MPH record last time out at MIR, and he and Team DME are hellbent on putting a 214 or more on the scoreboard. And it's no secret that Williford will roll the dice hard in an effort to post the world's first 6.80 street tire pass. So as these two trade blows, might carnage result? Spun tires, wheelies, or scattered aluminum could open the door for everybody else in the field, with steady Gall lurking to take advantage.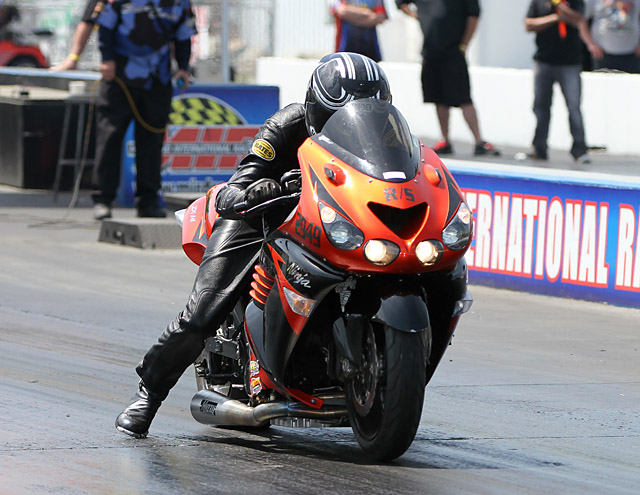 Likewise, the ongoing battle in DME Real Street between multi-time champ Jeremy Teasley and his nitrous-huffing, RS Motorsports Kawasaki ZX14 vs. Johnny "Turbo" Dobrin, who dominated 2012 with his smooth Exoticycle turbo 'Busa. Teasley and the '14 seemed destined for a Real Street MPH record, nearly hitting 200 with a 199.73 last time out at MIR. You can bet that owner/builder/tuner Roger Starrette will throw as much nitrous as possible into Teasley's '14 and glare from the starting line to make sure that Jeremy's using it early and often.
Dobrin has surely not sat on his hands since that last race and will be dialing up the turbo boost and tweaking the chassis to put power to pavement.
Teasley races in many, many classes at each event, and doubled up at MIR last time out with a Crazy 8s trophy to sit alongside his one from Real Street. Jimmy Shifflett also doubled up, winning bothFast by Gast Pro ET races. Now you can bet that watching these two guys win two classes set their competitors into a near rage, and they will be out for revenge this time around. FBR Shop 5.60, Louis Concrete 4.60, Trac King/APE Top Sportsman and Brock's Performance Street ET racers will all be out for blood when the lights come down.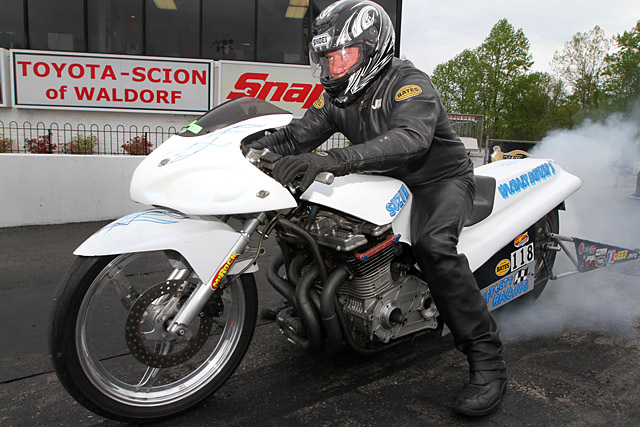 And when the sun goes down, Saturday night's Afterdark Undergound will feature the hottest outlaw bikes on the planet, including Eddie Kane, Ric Flair, HTP Performance's Cobra Commander and others.
You will not be able to live with yourself if you miss this pivotal event of the 2013 season!
Find out more about the Mickey Thompson Performance Tires MIRock Super Bike Series at http://www.mirockracing.com
Find out more about Maryland International Raceway at http://www.mirdrag.com/
This report was prepared by Tim Hailey. Photos are for editorial use only. Enjoy everything there is to read, see and watch about motorcycle drag racing and more at http://www.eatmyink.com
-end-
High-res images for editorial use are available by e-mailing timhailey@earthlink.net