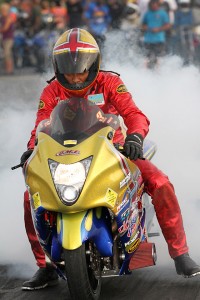 The DME team of riders Joey Gladstone, Jason Dunigan, Terence Angela and Ehren Litten rolls into Maryland International Raceway this weekend after winning Orient Express Pro Street at the Exoticycle/Roaring Toyz Spring Cup race in Valdosta, setting both ends of the record (6.905 at 215.51 mph with Gladstone) in the process.
Those records may be short lived, as perfect racing weather is forecast for the always meticulously prepped MIR quarter mile. The MIRock Superbike Series Spring Nationals there might see the world's first true 6.80something Pro Street pass, and you can bet that DME will be working at it as hard as anyone. Tuner Andy Sawyer will be packing as much boost into the Skip Gladstone-built engines as their street-legal tires can stand, while Dimey Eddinger oversees the whole operation.
Angela took the win in Valdosta, and you can bet that he feels very comfortable at MIR as well. Last time there he won Pro Street's richest purse—the $10,000 Battle Royale. Defending Pro Street champion Gladstone may have to summon his old wrestling skills to keep Angela and teammates out of the winners circle for this one.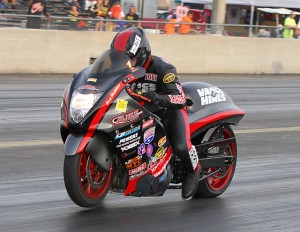 DME races next at the MIRock Fast By Gast Spring Nationals, April 25-27 at Maryland International Raceway in Budd's Creek.
Terence Angela, Joey Gladstone and the whole DME team thank DME Racing http://www.dmeracing.com/ , Penske Shocks http://www.penskeshocks.com/ , Catalyst Racing Composites http://www.catalystracingcomposites.com/ , NLR http://www.nlrsystems.com/ , Vanson Leathers http://www.vansonleathers.com/ , Lucas Oil http://www.lucasoil.com/ , CP/Carillo http://www.cp-carrillo.com/ , Web Cams http://www.webcamshafts.com/ , Worldwide Bearings http://www.worldwidebearings.com/ , Cometic Gaskets http://www.cometic.com/ , R&D Motorsports http://www.r-dmotorsports.com/ , VP Racing Fuel http://www.vpracingfuels.com/ , Dunigan Racing http://www.duniganracing.com/ , DCE http://www.wiringlooms.com/ , MTC http://www.mtceng.com/ , APE http://www.aperaceparts.com , Vance & Hines http://www.vanceandhines.com , and Blouch Performance Turbo http://www.bptstore.com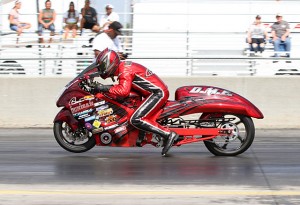 This report was prepared by Tim Hailey.
Enjoy everything there is to read, see and watch about motorcycle drag racing and more at http://www.eatmyink.com