Mark Cox wants to win an IHRA championship.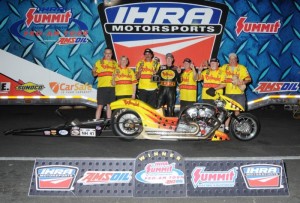 Over the past several years the 55-year-old North Carolinian has won championships in just about everything on two wheels, but an IHRA title and, more importantly, a Top Fuel Harley title, have eluded the veteran rider. So when the IHRA season began in Tucson, Arizona in March with a brand new look and a brand new championship program for the nitro-burning Harley-Davidson class, Cox was ready to ride.
Sort of.
You see Cox was ready, but his brand new bike was not. So Tucson came and went without him, as did IHRA's second stop on the Nitro Jam Drag Racing Series North American Tour one week later in San Antonio. Two races down, two winners in the form of Mike Scott and Randal Andras, and still no Cox.
As frustrating as it was to be on the sideline, especially with aspirations of contending for a championship, Cox knew that when his time did come, it shouldn't take him long to make up for lost time.
As it turns out, he couldn't have been more prophetic.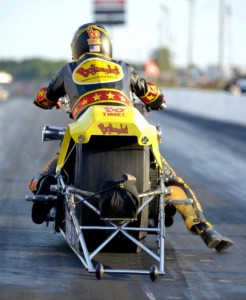 With a returning sponsor in the form of popular southern eatery Bojangles, and his new partnership with Alvin Kobernusz, Cox entered the IHRA Nitro Jam Southern Nationals at Bradenton Motorsports Park ready for a fight. And while a win in his first time out wasn't out of the realm of possibility, Cox never could have dreamed exactly what the weekend would have in store.
Not only did Cox take the Ironman in his 2014 debut, but he also set a new IHRA speed record in the Nitro Harley class with a pass of 230.76 mph culminating with a win over top qualifier and the man everyone was gunning for Joey Sternotti. That win, combined with his new record, helped put Cox right in the discussion as he quickly makes up lost ground in the battle for the two-wheel IHRA championship.
"Man, it was great to come out of the gate in my first race of the season and pull off a win for the Romines and especially Steve Horne," Cox said. "Without Horne's bike this weekend, this win would likely have been impossible. I really appreciated Steve and Mike's confidence in me. It was so exciting to be back racing with IHRA. When I ran with the IHRA in the early days there was so much excitement and so much enthusiasm from the fans. Now, to see that happening all over again, is amazing."
While Cox's debut win was certainly impressive, it was the way in which he won that made it all the more satisfying.
The very bike that had delayed Cox's season actually dropped the rear cylinder in its first-ever pass, leaving Cox and crew chief Mike Romine scrambling right out of the gate. With few options and fearing further damage to the new ride, the duo decided to turn to their backup bike, the Steve Horne-owned ride that Cox drove in 2013. With the two bikes similar in setup and feel, Romine put in a new tune-up and left the rest up to Cox who immediately put the bike into contention with a top three qualifying run Friday night.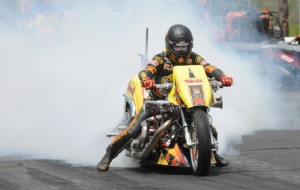 Cox then followed that up with a Saturday for the ages that included three bracket-like passes of 6.363, 6.291 and 6.296, an Ironman trophy and a new IHRA world record.
"Our weekend sure ended up better than it started. We were so excited about this new bike and Mike spent the offseason getting the bike ready to contend for IHRA points this year and that is what kept us out of the first two races this season. When it was finally ready, it showed up in Bradenton having never been down the track and just like that, in our first hit in testing, it dropped the rear cylinder," Cox said. "While we probably could have fixed it, Mike and I were concerned that it might have the same issues and continue to tear up parts, so we brought out the second bike that I drove for Steve Horne last year.
"We brought that bike with us in case we needed parts and ended up taking it to the winner's circle!"
But even with the change of bikes, Cox admits that he wasn't too concerned, considering the success he had enjoyed behind the handle bars on that very machine.
"Honestly, at the end of last year, we were becoming contenders to win just about everywhere we went. So we called Steve up on Friday to ask if he cared if we ran the bike. It was actually kind of neat, we felt like a NASCAR team. We broke one and went to the backup," Cox added.
From there it was great riding by Cox and smart tuning by Romine that allowed the veteran team to ride all the way to the finals and a win over Sternotti.
"Mike did a great job with the tune-up all weekend. On Saturday we came out with a fairly conservative tune-up with the temperatures being higher and the track hot and by the evening, with the track tightening and cooler temperatures, Mike just stepped it up and gave me a great ride. He did a great job paying attention to the conditions and made my job easy," Cox said.
In the final, Cox ran a solid 6.296, 220.42, having already backed up his new speed record earlier in the day, while top qualifier Sternotti had a 6.330, 211.16 in the runner-up effort. Sternotti also entered into the IHRA record books in Bradenton, setting the other half of the Nitro Harley world record with a 6.250-second elapsed time. Both records erased marks which had stood since the early 2000s.
Adding to the seemingly perfect set of circumstances for Cox in Bradenton, his last win in Nitro Harley came in 2002 at Rockingham Dragway, the last race run under the traditional qualifying and eliminations format prior to this season. And seeing as how this was Cox's first start since then, technically that gives Cox back-to-back IHRA wins 12 years apart.
"I remember that win like it was yesterday. We ran Ray Price in the final and took the very last race run under the old format. Now, to come out here and win in my first start with the IHRA since then, is just an amazing feeling," Cox said.
Now Cox, Sternotti, points leader Randal Andras and the rest of the Nitro Harley gang head to Palm Beach International Raceway for the IHRA Nitro Jam Palm Beach Nationals May 2-3 for another round of incredible Nitro Harley action.
"I am really looking forward to Palm Beach. Mike is trying to repair our original bike and honestly I am not sure which bike I am going to be riding," Cox said. "Either way, I think we can be just as competitive down there and hopefully come away with another win. I really want to contend for this championship and I hope this momentum will help us make up for lost time."