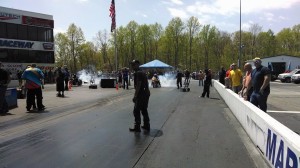 If early-season bike counts are telling metrics, 2014 should be a record-breaking season for the MIROCK dragbike series.
After what was dubbed a "Rockingham Revival," the season-opening Adams Spring Bike Open, March 21-23, where Rockingham Dragway enjoyed its best turnout in over five years, MIR opened the northern leg of the tour, the Fast by Gast Spring Nationals, April 25-27, with 844 entries.
It's an optimistic indicator for the series considering MIR's first race of the season is usually one of the lightest. Last year the event had about 500 entries with the season peaking in Oct. with over 850 entries at the 10K Battle Royal Fall Nationals.
Of course the Southern California-like weather in the 60s and 70s with hot sun and a cool breeze didn't hurt the turnout. The only complaint about the weather was a series of drizzles that pushed some of Saturday's ET races and the final session of pro qualifying to Sunday morning. It wasn't an overly hard or heavy rain, but certainly annoying to the MIR track staff.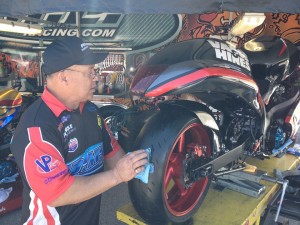 "We had the track dry four different times," MIR event director Jason Miller said. "It's frustrating."
Not everyone was disappointed.
"It wasn't going to do us any good to run at 10:30 at night because the conditions are nothing like what we race in," said Cecil Towner, owner of the HTP Pro Street team.
There were 60 grains of water in the air and the track temperature had cooled off considerably.
"This is when parts break. If you want to see a 6.80, move us to 10:30 tomorrow morning," said DME engine builder Skip Gladstone.
Gladstone's prediction didn't come true, but he was close. Gladstone's son Joey, who was already qualified No. 1 with a 6.91 and represented the only Pro Street rider to hit the six-second zone on his brand new, immaculate Vance and Hines/DME entry, set a new MIROCK P/S nitrous record with a 6.907, supplanting Rodney Williford's 6.913 from two seasons ago.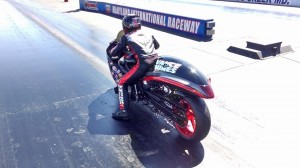 Gladstone had a career best 60-foot time of 1.19.
"It was not a perfect run. I had to chicken wing the throttle between the 60-foot and 330 mark," Gladstone said.
"We were a little fat. We put more fuel in it because the air got better," Skip Gladstone said.
The run also matched Ryan Schnitz's pass for the second quickest P/S run ever. Gladstone recorded the quickest ever at this month's ManCup with a 6.905. Yes, it's clear his new motorcycle is perhaps the best street bike ever.
Gladstone was able to overcome soreness from a half-track crash on a Grudge bike on Saturday night.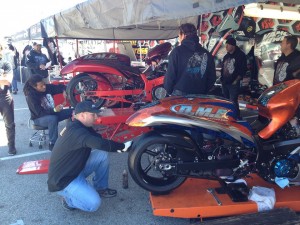 "It hurt. The track was so sticky when I came off I couldn't slide," Gladstone said.
In opening eliminations Gladstone recorded a 6.961 on his competition single after No. 16 qualifier Jeremy Teasley broke.  Surprisingly, at round's end, Gladstone remained the only Pro Street competitor to reach the six-second zone.  All three of his DME teammates, Terence Angela, Ehren Litten and Jason Dunigan also advanced.
In round No. 2 Gladstone backed off to his first seven-second pass of the weekend with a 7.02 to defeat Rendolf Torbed.
"We heard a noise we didn't like on the 6.96 and we had to pull the motor," reported crew chief Andy Sawyer. "We broke a bucket."
Darion Payne prevented the all-DME semifinal with a 7.13-7.32 victory over Litten.
In the semis Gladstone ousted Payne with a 6.97 to Payne's 7.84 and Angela took out his teammate with a 7.02 to Dunigan's wounded 7.90.
Gladstone capped off his impressive weekend with a 6.94 win in the final.