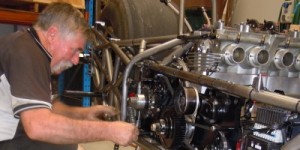 The upcoming X Champs at Sydney Dragway is shaping up to be a big Top Fuel Motorcycle showdown, with an oversized field of Top Fuel Motorcycle entries, all vying for the title.
Perth-based Mark Drew will make the long haul across the Nullabor, along with Burnett and Crawford, together with a contingent of East Coast Riders, all converging on Eastern Creek.
Sydney Dragway is the current Australian National Drag Racing Association's champion Chris Porter's home track and Porter's last win there sets him as the man to beat.
Mark Drew is currently the quickest V-Twin Rider in the country, clocking regular 6.4's at well over 200 mph.  Drew is chasing the Championship from Porter, as are many others. 
Still a no show from former Top Fuel Motorcycle Racers Athol Williams and Jay Upton, despite rampant rumours of their return.  Upton entered Round 1 in Perth, however, was a no show come race day.
Sydney based rider Leonard Azzopardi, has also been talking up his chances, as we see him take on the best Australia has to offer. Azzopardi has been a regular tester at the Sydney track, but hasn't competed at a National event on his Top Fuel Motorcycle for some time.
While there is a lot of talk, Matheson, multiple Australian National Drag Racing Association Champion and current record holder, has been quietly working with his Nitro Voodoo crew, as he continues to recover from his high speed (370 kph) crash at Sydney Dragway in May last year.  Matheson ran exhibition passes over the Easter weekend at Willowbank Raceway, were he struggled with set up, however, still ran a 6.16, with an early shut off at 202 mph. 
Nationally, the Matheson Santos Super 3 Extreme pass at 6.16 over the Easter weekend, has been the quickest ET in Top Fuel Motorcycle racing in Australia since Matheson competed in May last year at Sydney Dragway, where he ran a 6.098.
Matheson said he was hoping to better his previous bests of 6.04 at 241.8 mph. "However, it is still a little too soon to run out the back door, until I am back to 100 percent," Matheson said.

"We used the Santos Super 3 Extreme event as a test session in the lead up to the X-Champs in early May, which will be lots of fun.
My guys have been working hard on setting up the new bike and it's nearly 100%.
I'm very confident we will run hard and will make the field in Sydney."
Thank you once again to our Sponsors & Supporters:
WebCam, Red Line Oils, RB Performance, Rocket Industries, CRC Industries, PDS Graphics, Kitten Car Care Products, GT Radiators & Machining, Vance & Hines, Hi-Side Leathers, PR Factory Store and special thanks to Larry "Spiderman" McBride & Steve McBride.