The HTP Performance Man Cup Nationals from Memphis, Tenn., June 20-21, proved to be a challenging event for riders and tuners in all categories.  The scorching hot sun, high humidity and temperatures in the mid-90s had elapsed-times down and engines and crews exerting.
Despite a first-round upset, Top Fuel racer Dave Vantine, now in his third season of nitro racing, concluded he very well had the strongest motorcycle on the property.
"If we didn't have the best bike we had a bike dead even with the best," Vantine said. "We would have had it tuned up for the final."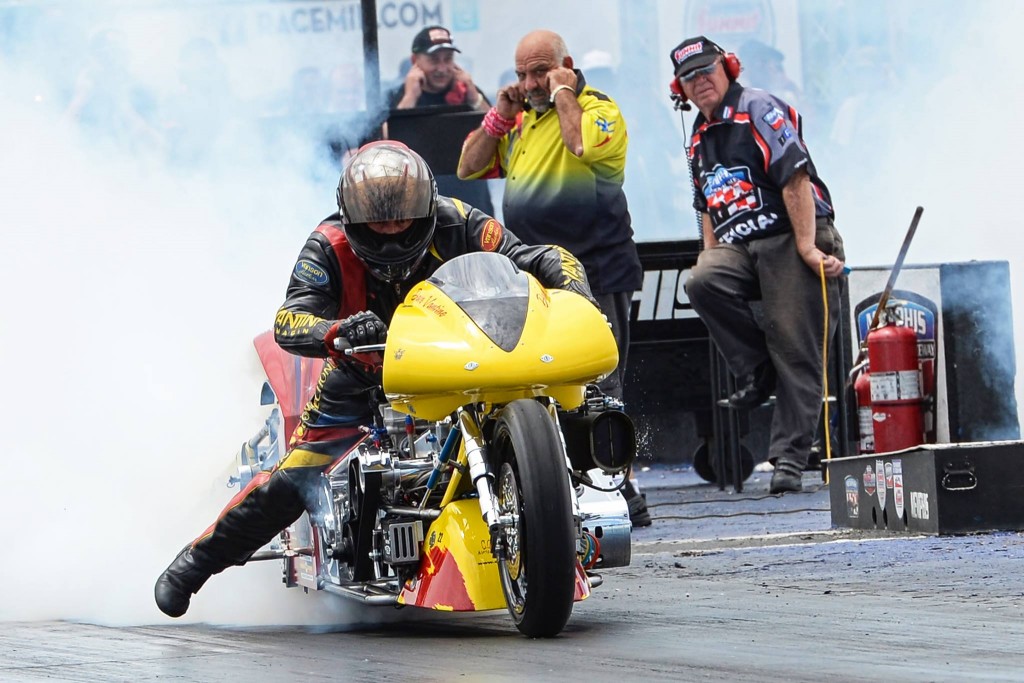 While most struggled to get down the track, Vantine led the first two rounds of qualifying with a 6.38 at 211 mph.
"Our runs were victims of the hottest conditions we have ever run in. We simply were way too rich," Vantine said after the second qualifier. "We took fuel away but we dropped holes at the hit. It cleaned up for about two seconds but then started dropping again."
Even Top Fuel legend and 14-time champion, Larry "Spiderman" McBride and his crew struggled to get down the racetrack. Eventually McBride improved to a 6.21 at 226 mph in the final session to edge Vantine off the pole.
It set the stage for a a first round eliminator showdown between Vantine and the retuning Korry Hogan.
Vantine was over a full second quicker than Hogan in qualifying, but an unusual situation at the starting line threw the talented Hamilton, N.Y. racer off and caused him to redlight.
"We both did our burnouts side-by-side. I pre-staged and Korry rolled right to pre-stage and quickly staged. The starter was slow to press the button. Once I see the other person's pre-stage light come on I usually take a second to prepare myself and wiggle a little bit in the seat," Vantine said. "I'm not used to that, so I ended up jumping, stopping and then taking off."
Hogan smoked the tire while Vantine blasted off a very impressive 6.22 at 217 mph.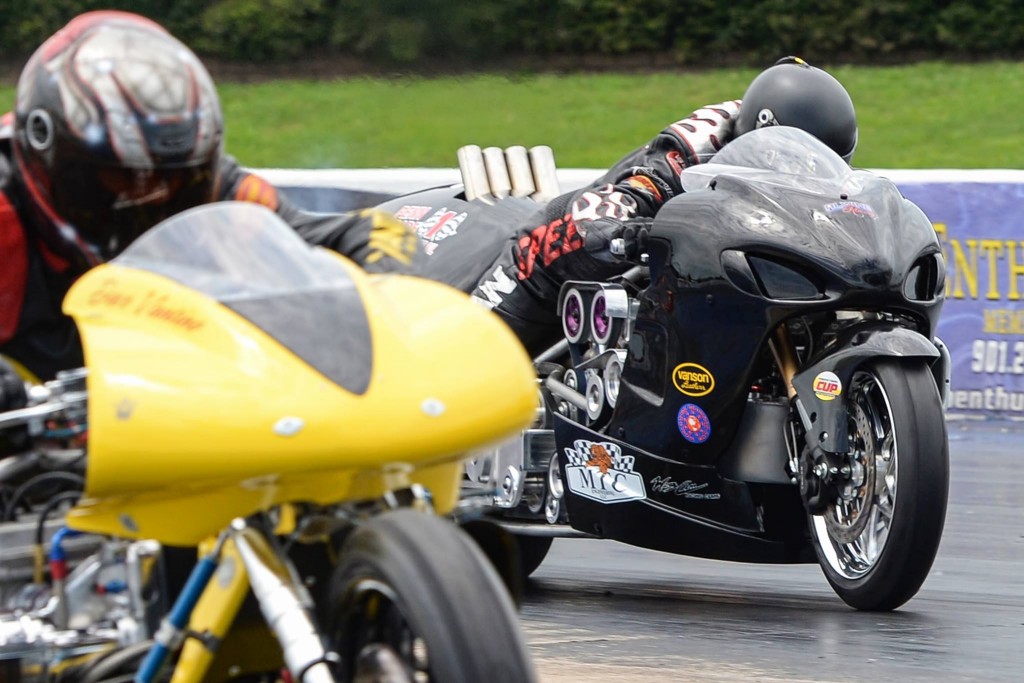 Vantine's computer indicated the run could have been even better.
"In a perfect world this would have been a 6.0 pass," Vantine said. "The hesitation on the line cost us E.T."
McBride went on to win the event with a 6.18 at 228 mph.
Vantine feels it would have been a competitive and exciting final against his mentor McBride
"Worst case, I think we would have been right there with Larry," Vantine said.
Despite the intense competition on the track, Vantine continues to work closely and receive guidance from McBride.
"Our bike is in a constant state of upgrade. Any chassis tuning or mechanical questions we have, Larry answers. He has been a great help," Vantine said. "We will probably go to a McBride clutch real soon."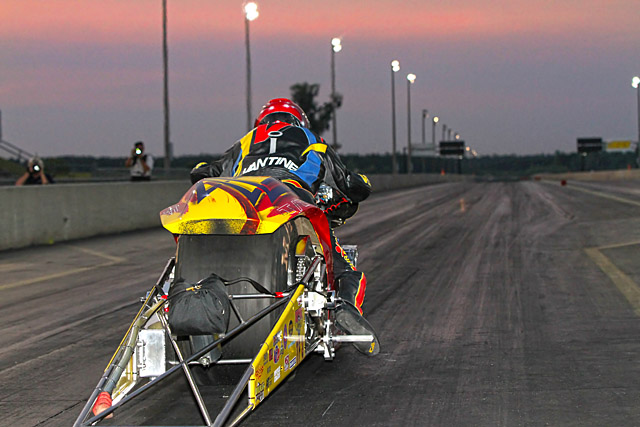 Next up for Vantine will be the IDBL WPGC Bike Fest from Maryland International Raceway, July 24-26. This begins a three-race match series between Vantine and McBride.
Last season Vantine took the series victory, two races to one.
"I didn't beat Larry in my mind yet. I don't count Larry beating himself," Vantine said of McBride's mechanical failures from pushing the envelope last year.
"When he is pissed off at the far end of the track I will know I actually beat him," laughed Vantine.
Vantine thanked all of his supporters and his entire team for the great effort and in Memphis.