After three short months of preparing for the first race of the season as a new team and a new racing operation, Team Liberty Racing got both of their Victory Magnum Pro Stock Motorcycles in the field at the 48th annual Amalie Motor Oil NHRA Gatornationals.
In the first qualifying round, team owner and Team Liberty Racing rider Cory Reed clocked in with a 6.943-second pass at 188.96 mph. After a less than desirable test session earlier in the week, there was a lot of pressure on three time Pro Stock Motorcycle world champion Angelle Sampey to come out of the gate and perform. Her bike experienced a mechanical issue and was not able to start the bike and she was unable to make the run.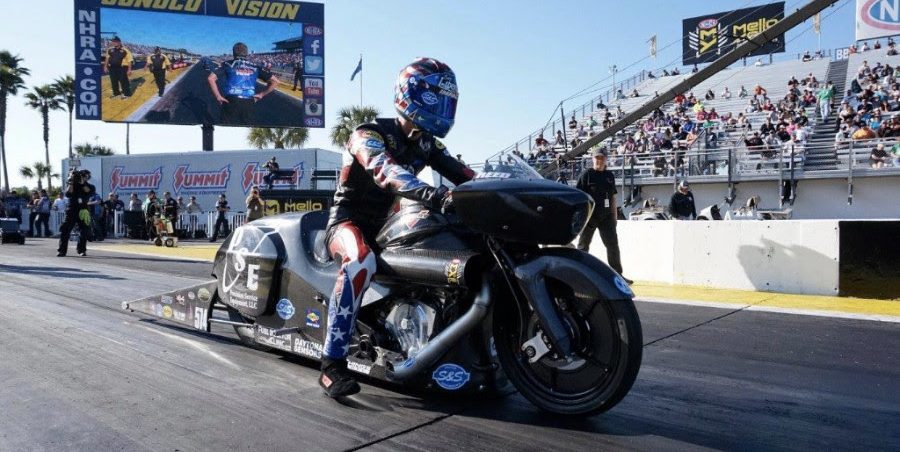 In Friday's second session, Reed crossed the finish line with a 6.921, 190.51 in his carbon fiber Victory Magnum. Sampey coasted to the end of the track with a 9.619-seconds at 79.61 mph due to her motorcycle drifting towards the wall.
On Saturday, Reed clocked in with his fastest of the weekend, 6.888, 192.71 and Sampey went straight down Gainesville Raceway for the first time of the weekend with a 6.964, 192.30. Reed closed out qualifying with a solid 6.929, 190.35.
Anticipation was building in the final session for Sampey's half of Team Liberty Racing because coming in the last session, she was on the outside looking in from the No. 19 spot. Sampey took a deep sigh of relief when she posted her fastest of the weekend, 6.898, 194.02 and was able to nab the No. 13 seed going into raceday.
No. 11 Reed will race No. 6 LE Tonglet and No. 13 Sampey will race No. 4 Andrew Hines in the first round of eliminations tomorrow.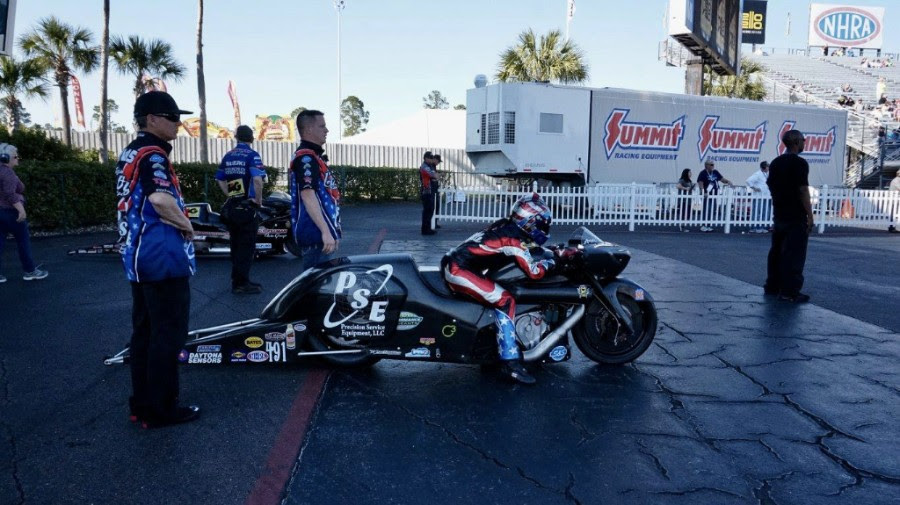 "I have a lot of respect for LE," Reed said. "We haven't made one pass this weekend that I would consider going 'backwards', which is great. LE is tough to beat and he gets a good light 90% of the time so I will definitely go up there looking to cut a good light and hopefully they'll slip up on the tune-up and we can get the win in our PSE/Team Liberty Racing Victory Magnum. A lot of people said we couldn't accomplish what we did in the amount of time we had and we got both bikes qualified and in the 6.80's. We're in striking distance and we could win this race tomorrow with a little luck on our side."
Sampey has not been shy about the fact that they could've used another month before the first race of the year to prepare.
"It's a miraculous feat to even come here with the time we had and qualify both bikes," Sampey said. "I know everyone says their team works hard because everyone does work hard but this team has been exceptionally hard workers for the last three months leading up to this. My bike was a frame six days ago with no handlebars and no wheels. I'm so proud of us!"
CORY REED, PSE/TEAM LIBERTY RACING VICTORY MAGNUM
Qualified: No. 11
ELIMINATIONS
REED vs. LE Tonglet
QUALIFYING
Friday: 6.943-seconds, 188.96 mph (Session 1); 6.921, 190.51 (Session 2)
Saturday: 6.888, 192.71 (Session 3); 6.929, 190.35 (Session 4)
ANGELLE SAMPEY, PSE/TEAM LIBERTY RACING VICTORY MAGNUM
Qualified: No. 13
ELIMINATIONS
SAMPEY vs. Andrew Hines
QUALIFYING
Friday: No Time (Session 1); 9.619-seconds, 79.61 mph (Session 2)
Saturday: 6.964, 192.30 (Session 3); 6.898, 194.02 (Session 4)