By the way Team Liberty Racing's Cory Reed and Angelle Sampey are departing from Gainesville Raceway today, you'd think they won the 48th annual Amalie Motor Oil NHRA Gatornationals. With an all-around team effort displayed in the last few months getting a brand-new team up and running, getting both bikes qualified and in the show was more than they were planning on their first race out.
Cory Reed came into raceday in the No. 11 spot and knew he had to take a shot at the starting line against his competition, LE Tonglet. Reed did exactly what he set out to do when he had a .011-second reaction time over Tonglet's .083-second reaction. With over .070-seconds advantage over Tonglet at the hit, he crossed the finish line with a 6.952-second pass at 190.16 mph – a solid run just came up shy against Tonglet's stout 6.805, 197.19.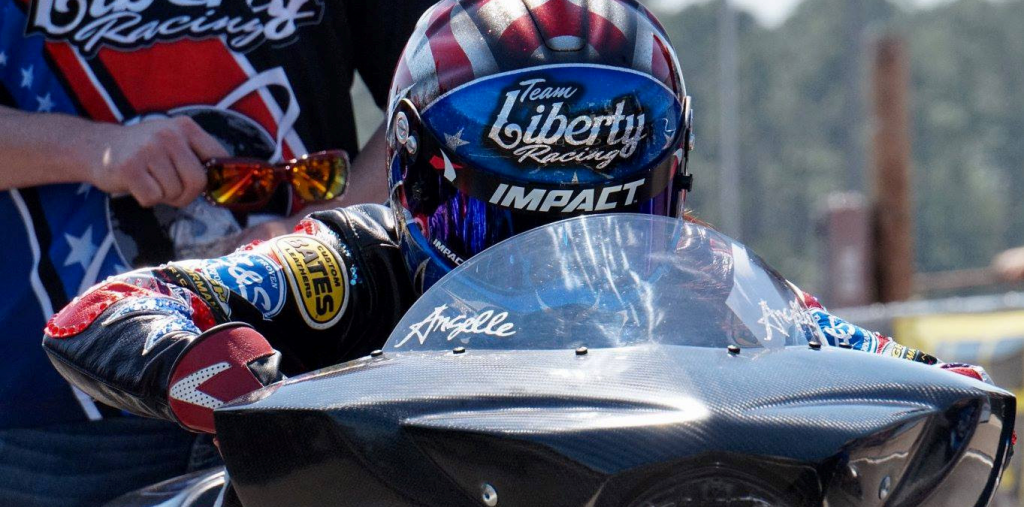 "I'm happy both bikes came out here and were able to qualify," team owner Reed smiled. "Both bikes ran in the 80's at some point this weekend and that's the best starting point I could've asked for. I think it's just as impressive as winning the race at this point. Our whole team worked really well together and everything went smooth; I have no complaints."
No. 13 Angelle Sampey took on No. 3 Andrew Hines in the first round. A side-wind caused Angelle's bike to drift towards the wall after she launched and she was forced to abort the run. Sampey coasted to a 10.641-second pass at 69.49. Hines' 6.764, 198.52 advanced to the next round.
"I can't possibly be any happier, actually," Sampey said. "We exceeded my expectations by getting both bikes in the field this weekend and the loss was not what we wanted but of course, we're still very excited about this weekend.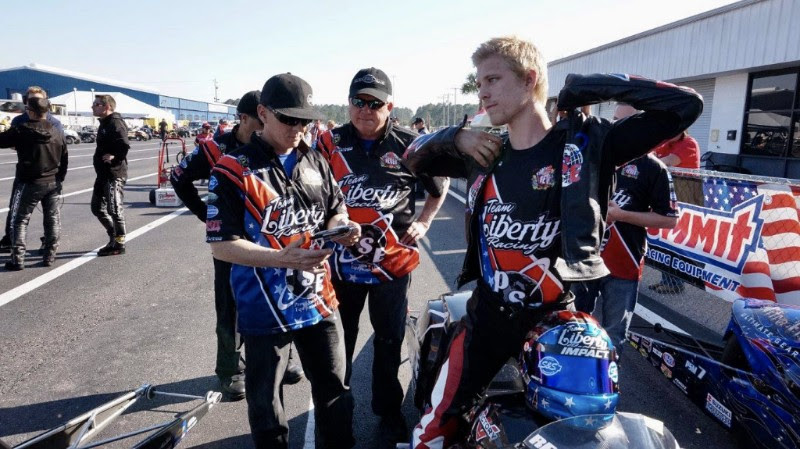 CORY REED, PSE/TEAM LIBERTY RACING VICTORY MAGNUM
Qualified: No. 11
ELIMINATIONS
First Round: LE Tonglet (6.805, 197.19) def. REED (6.952, 190.16)
QUALIFYING
Friday: 6.943-seconds, 188.96 mph (Session 1); 6.921, 190.51 (Session 2)
Saturday: 6.888, 192.71 (Session 3); 6.929, 190.35 (Session 4)
ANGELLE SAMPEY, PSE/TEAM LIBERTY RACING VICTORY MAGNUM
Qualified: No. 13
ELIMINATIONS
First Round: Andrew Hines (6.764, 198.52) def. SAMPEY (10.641, 69.49)
QUALIFYING
Friday: No Run (Session 1); 9.619-seconds, 79.61 mph (Session 2)
Saturday: 6.964, 192.30 (Session 3); 6.898, 194.02 (Session 4)