When it comes to motorcycle performance and cylinder head technology, Rick Ward of Ward Performance is a phenom.
Ward, whose impressive resume includes an NHRA US Nationals victory as a rider and multiple championships as a crew chief and engine builder, is credited with creating one of the most ground-breaking components of the past 20 years, the Vortex cylinder head.  For his excellence in the design and manufacture of the Vortex 2 cylinder head, Ward earned the National Dragster's 2001 "Mechanical Men of The Year" award.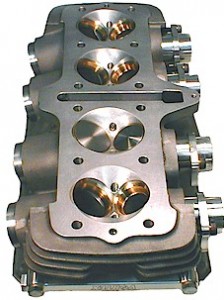 "I always wanted to build motors and improve performance," Ward said.  "It's my passion."
Ward has been involved in the sport for nearly his entire life and it was at the 1983 NHRA Gatornationals in Gainesville, Florida when his career took off.  "I walked right up to Terry Vance and Byron Hines (of legendary speed shop Vance & Hines) and said I want to come to California and work for you," Ward said.  "It was the right place and the right time, and within a week I had a job."
Working at Vance & Hines for six years gave Ward a Harvard-like education in all facets of motorcycle drag racing technology and performance.
In 1989 Ward decided it was time to form his own company.  Ward Performance quickly became a leader in the industry and remains that way today.  Rick purchased his first CNC in 1993, and quickly established himself as the premier cylinder head machinist in the motorcycle industry.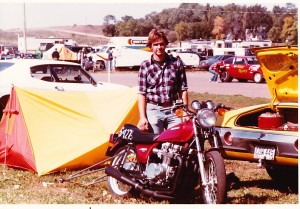 Perhaps Ward's greatest achievement came in 1999 when he invented the state-of-the-art, cutting-edge Vortex Cylinder head.  Ward later updated the creation and released the Vortex 2, a marvel of engineering that flows 160 CFM and supports over 300 horsepower.  These aftermarket cylinder heads are legal for NHRA, ADRL, ECTA, SCTA, and AMA competition.  The superior product can be found on countless of the world's quickest and most consistent drag bikes.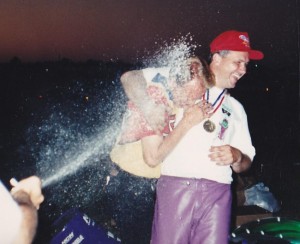 Along with winning races on his own as a rider, Ward was instrumental in the tremendous success of many top drag racers, including Angelle Savoie (multiple NHRA Pro Stock Bike Championships, and past record holder), Todd Doege (multiple Pro Star Pro Stock Bike Championships, and past record holder), Guy Caputo (World's Fastest Nitrous Bike in the 1 mile), Larry McBride (first ever in the 5's – Pro Star Top Fuel Bike Champion), Bill Warner (World's fastest street bike at 311mph in 1.5 miles), Kory Hogan (first bike over 250 in quarter mile, and fastest ever at 255 mph), Ashley Owens/FBG (ADRL ET record holder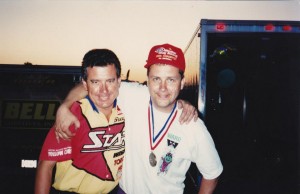 3.964 in the 1/8th mile, multi-championships), Bill Vose (ADRL MPH record holder 180.77 in the 1/8th mile), Dave Beck (past European record holder 7.07, multi-championships), Mark Paquette (Funny Bike record holder 4.0's at 183 in the 1/8th mile), Paul Gast (multi-time champion in Prostar Pro Stock Bike, and past record holder), Bud Yoder/Ronnie Mitchell Racing (Pro Street Champion and record holder), Mike Slowe (multi-time Pro Street Champion and record holder), and Eric McKinney (ADRL Champion), to name a few. 
With his business still thriving, Ward stays very busy providing upgrades for all forms of Japanese dragbikes and street bikes.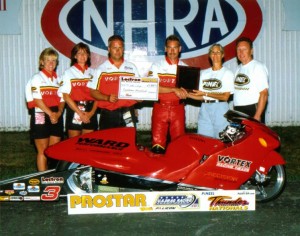 "We have learned so much over the years that really helps us give the customer exactly what they need," Ward said.  "One of the biggest lessons is bigger isn't always better.  It's not one size fits all.  It all depends on the application.  Once you get everything set right, it's huge."
Ward admits all those years of working on Pro Stock Motorcycles, where finding one or two extra horsepower was a major achievement, helped mold him into a perfectionist who scours every detail.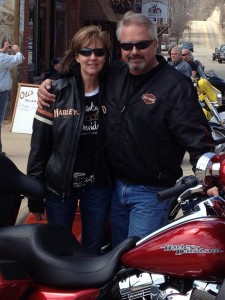 Recently, as a loyal inline four cylinder enthusiast, Ward did something he thought he would never do — he bought a Harley Davidson in 2010.  His current 2012 120 cubic inch Street Glide has provided him with a lot of enjoyment and it has also opened up his business to V-Twin customers looking for an upgrade.  "We can easily double the horsepower on a Harley," Ward said.  "We just take all the stuff we learned doing racing heads and apply it."
To find out how Ward Performance can take your drag bike or street bike, Harley or metric, to the next level, visit the Ward Performance website and give Rick a call.