Chris Matheson's Top Fuel Nitro Harley Team ended the Australian National Championship season in third position on 203 points, some eleven points behind closest rival Chris Porter on 214.
Matheson said, "it had been a real challenge to us all season, the V-Twin took a bit to get our mind around, however, despite the poor show at the Winters, we have the bike sorted and are ready to roll."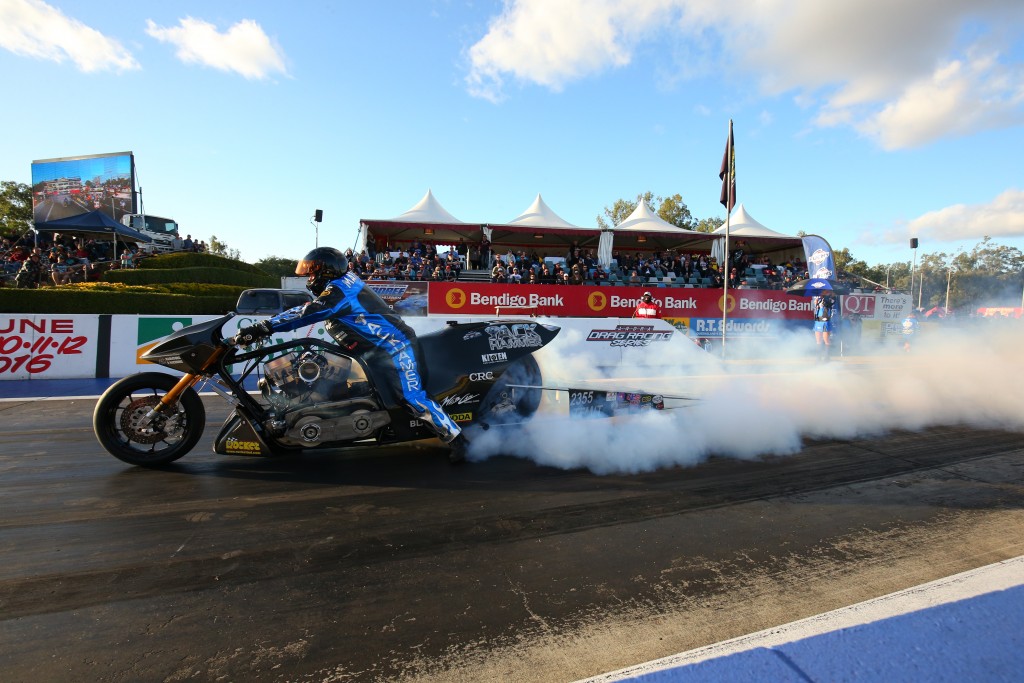 "We had some big highs, winning Round No. 1  at the season opener in Perth, then virtually not scoring at Round Two and Three due to a clutch fire. We then had a rain out at the Nationals in Sydney, leaving the Winters to try to regain points in our chase."
Testing the weekend prior to the Winters started off well with a 6.7sec shake down pass, then the team chased a gremlin all race weekend.
"My crew worked tirelessly to find the issue, unfortunately, we ran out of passes to dial in the bikes performance back on track," Matheson said.  "Despite the hurdles, we were happy with our first season, albeit, not number one at the end of the day."
The team now has a four month break before heading to the Spring Nationals at Adelaide International Raceway to start the new season.
"Graeme Turner Crew Chief and the guys are fired up for the new full twelve month season with eight Championship Rounds to compete. The new 2015/2016 calendar will see us traverse the country, covering all points of the compass, clocking up some 30,000 kilometers (18,641 miles), mostly across outback Australia," Matheson said. "We would like to take the opportunity to thank all our sponsors, supporters and fans and in particular the Track Officials, Volunteers who make the events happen. Well done to all concerned and a special thank you to my team."
The series ended on a huge high, with great weather and big crowds at the Winternationals.
Matheson once again thanked his  Sponsors & Supporters:
GT Radiators & Machining, WebCam, Rocket Industries, CRC Industries, PDS Graphics, Kitten Car Care Products, Worldwide Bearings, Orangeburg Cycles, BlackAdda, Hi-Side Leathers, Boninfante Friction Inc. Special thanks to Doug Vancil, Steve and Larry McBride.