Pro Open racer Mark Rendeluk sent along the following blog after his impressive weekend and 6.65 final round victory over Vince Testa's 6.95 at the HTP/Motec Man Cup Nationals from Memphis, Tenn., June 20-21.
"We started our journey off wanting to make some test laps on Friday but the weather held us off until Saturday for Qualifying. We wanted to make sure we could get down the track so we put a 6.70 tune up in it. It ran it just like that giving us the data we needed to move forward and put us at the No. 1 spot.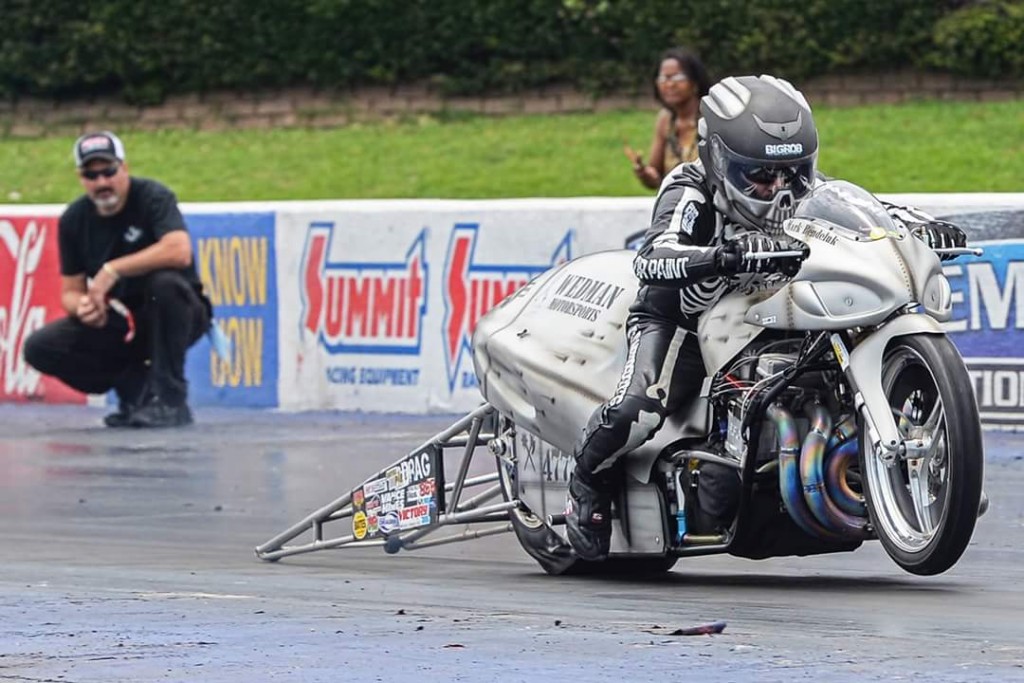 When we got back to the trailer Chris Wedman, halfway through servicing clutch noticed a crack in the cases so we decided to put Shiney in. Now Shiney is called Shiney becasue it is just that, an all new motor with only five warm up starts on it. It's so purty!
We did the motor swap in time to get up for 2nd round and we put just a little more in it and Shiney decided to put up a 6.63 for us keeping us in the No. 1 spot. We go back to work looking over data and decided with the evening possibly bringing better air and a cooler track we could put a lil more in Shiney.
Joey Gladstone rips off a 6.68 and seals the No. 2 spot and the track decides to die instead of get better causing us to spin and an early shut off breaking two shift forks.  But we had the No. 1 spot sealed with the 63 pass. Thankfully Paul Gast fixed us up with some shift forks and we got the bike back together. We decided we would only go hard when needed to, depending on who we were racing during eliminations, hoping it was another Gladstone final with us so we could have the chance to redeem ourselves and get the win.
As first round came up the bike spun a little off the hit and we went a 6.70 to get the stripe, taking even more power out so we could get down the track for the second round. We went a 6.66 throwing down the hell number.  Chris told everybody we were bringing with us for the weekend!
We decided to leave that tune up in it for the Tommy Bolton bike we faced in the semis knowing we had it covered, as we took the stripe we did it with another 6.66.
We were into the finals to Face Vincent Testa, now let me tell you about Vincent Testa, this guy is one of the most gracious, humble guys in the sport. He even came over to the trailer before the finals wearing one of my shirts saying this is the 4th time I'm facing you and I want to look good doing it so I put your shirt on for good luck. What a great guy.
As we get ready for the finals we put a little bit extra in it because Vincent has his bike going great, running a 6.84 in the semis. I know he has more left, it's just a matter if he can apply it to the track conditions. We face off on the tree and I know I need to cut a great tree to get out ahead of him because his back half is going be strong for a turbo bike.
I cut a .017 tree and I am out in front, we spin a little at the top of a couple of shifts but pull off the victory with a 6.65 winning the race for my dad for Father's day! We had a great time even though we sweat our butts off in the heat and look forward to racing the Georgia Man Cup world finals race, hoping for another face off with Joey and the DME bike.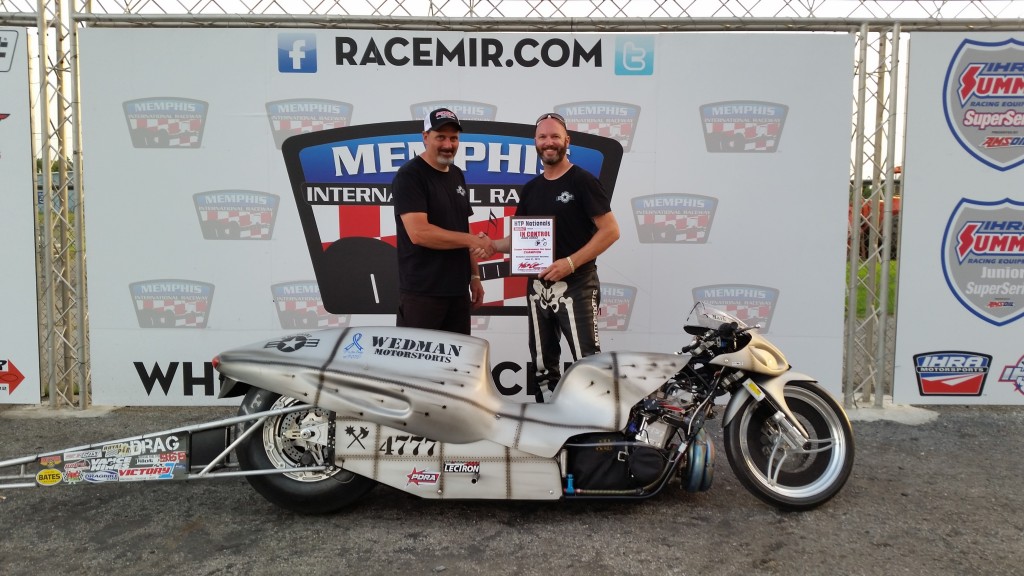 The biggest thanks of all goes to Chris Wedman for keeping the silver bullet going ever so strong with all our great parts that help us stay consistent.
We would like to thank all of the following
Vance and Hines
Walt Timblin
Dan Wagner
Rick Ward
MSR
ARC
Arias pistons
"You guys help us stay on top of our game by making and selling quality products."
Photos courtesy of Bland Bridenstine, Christopher Mark, and Hotrod Christie