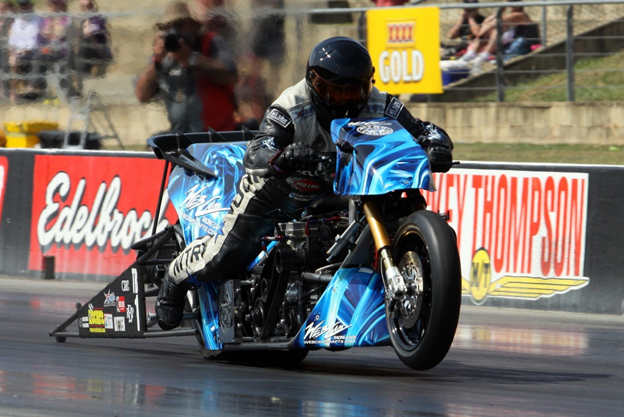 Australian multiple Top Fuel Motorcycle Champion had a disastrous race meeting at the recent Round at the Perth Motorplex at Kwinana Beach, Western Australia.
Matheson made the pilgrimage across Australia to continue his good form, after a dominant win in Round One at the Sydney Dragway's Australian Nationals.  Matheson Top Qualified, set a new track ET Record of 6.09 and set a new MPH PB of 226.
Matheson was on a high heading into the Western Australian Round, however, the high soon became a low, with major mechanical problems.
Matheson said "the trip over the big paddock was incident free, which is always a good thing.  We set up on the Tuesday and were smashed by the damaging gale force winds that struck Perth for some three days.  I thought the awning, truck and all the gear was going to end up in East Timor, despite all the heavy duty tie downs and hire cars used as wind anchors.
Wednesday Test day then became a washout to add to our woes.  We then seized up a blower in our start up procedure, which was extremely unusual, well, un-heard of in our history of racing these bikes.   We replaced the Blower with a new spare, which in turn seized up as well.  After repairing both blowers, we then re-fired, only to damage a third Supercharger.  As time ticked by, we were none the wiser to the cause, so elected not to risk running the bike without fully understanding the cause of the problem.
Matheson said "these bikes are dangerous at the best of times and you don't want to be near them when a Supercharger explodes, let alone lying across the top of one".
Matheson said he was champing at the bit to take on the West Australian guys, especially Mark Drew on the back of his good form posting some mid 6.5 second runs.  Chris Porter on the Fraser Motorcycle sponsored Nitro Harley was also looming as a hard charger, posting a stout 6.8 at over 200 mph during Qualifying.  Other locals including Burnett and Crawford, along with Graeme Morrell made up a strong field before casualties thinned out the field.
Despite the Nitro Voodoo Team not competing, it was a championship points chase, as the Teams competed for the Wins.  Top Qualifier Mark Drew posted a 6.603, closely followed by Chris Porter on a 6.887, despite the strong cross winds.
Drew damaged an engine on the last Qualifying pass, however, was at the Staging Lanes next day with a new power plant, ready to run.
Eliminations saw major upsets, with Morrell and Burnett taking out Drew and Porter respectively in the lead up to the final.  Burnett then took on consistent Nitro Harley racer Graeme Morrell, winning with a 7.078 to a 8.353.
Despite the huge upsets and Matheson's no show, Matheson said he and all the Nitro Voodoo Team enjoyed the weekend, enabling them to mix with fans and racers alike.
Matheson said he must have signed and given away 500 plus Nitro Voodoo posters and a truck load of key rings and T-Shirts.  It was great!
The fans made it all worthwhile and are the sole reason we do what we do.
Matheson said he is aiming to test in January, with the view to running the Nitro Voodoo machine at the third round to be held in Adelaide South Australia in late February 2013.
Matheson said the championships points table is close, with Chris Porter leading on 154, closely followed by Graeme Morrell on 150 and the Nitro Voodoo Team on 118.
Special thanks to retired Australian Top Bike Champion Jay Upton for assisting in our Supercharger repairs.
Thank you once again to our Sponsors & Supporters:
WebCam, Red Line Oils, RB Performance, Rocket Industries, CRC Industries, PDS Graphics, Kitten Car Care Products, GT Radiators & Machining, Vance & Hines, Hi-Side Leathers, PR Factory Store and special thanks to Larry "Spiderman" McBride & Steve McBride.