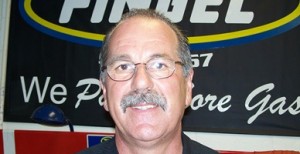 Top Fuel legend Larry "Spiderman" McBride would rather suffer a first-round red light than have to make the difficult decision he is faced with.
The Spiderman cringed upon hearing South Georgia Motorsports Park and The Manufacturers Cup group will hold competing events on the same weekend this coming April.  Having to choose between the two events and his friends on each side makes McBride uncomfortable.
"I think this is terrible for the sport," McBride said.  "I support both groups and appreciate all they have done. Now I have to make a choice and I don't like that. I really hope they can work this out."
So where will the 11-time champion race on the weekend of April 5-7, Valdosta, Ga. or Bradenton, Fla.?
"They forced my hand. I am going to put a paddle tire on the back of my bike and start sand dragging," joked McBride.
McBride supports South Georgia Motorsports Park because he appreciates all of the hospitality the venue has shown drag bike racers over the past five years under three different sanctions; Prostar, Dragbike and The Manufacturers Cup.  McBride admires the passionate group of fans in Valdosta and loves the ultra-smooth racetrack.
McBride supports the Manufacturers Cup because he has several sponsors and friends among them. McBride wants to see the group succeed and grow The Cup events into a thriving national series.
So what is the Spiderman to do?
McBride says he is going to wait to make his decision. The Spiderman did however express some concern about racing on an unfamiliar Bradenton track.
"I know we can run a 5.69 in Valdosta.  I have no idea what kind of racetrack we will be getting in Bradenton," McBride said. "If they have steel guardrails anywhere on the track, I wont be able to race there. It may turn into a situation where Top Fuel will have to run eighth-mile."
McBride's phone has been ringing constantly. Both groups are eager to get a commitment from the record-holder and fans and racers want to know where, arguably, the sport's greatest attraction, will be.  Having the nation's quickest motorcycle as part of the show will say a lot as to who has the more prominent event.
SGMP track manager Tim Fleming is known as a big fan of McBride's operation. Fleming has already reached out to Team Spiderman.
As for now, we will all wait for an answer. The Top Fuel record-holder is conflicted.
McBride thanked sponsors; Pingel Enterprise, Trim-Tex Drywall Products, Drag Specialties-Parts Unlimited, Red Line Synthetic Oil Corporation, K&N Air Filters and Web-Cam as well as his other sponsors.
Vance & Hines Motorsports, PR Factory Store, Muzzys Performance, Ferrea Valves, Kibblewhite, Precision Machine, World Wide Bearings, Vanson Leathers, Performance Machine, Belt Drives Ltd, Street & Competition, Simpson Race Products, Nitrous Express, APE, EK Chain, Arias Pistons, R/D Spring Corp, Autolite, MSD, Protect ALL, Whipple Industries, Cometic Gaskets, B&J Transmission, Carolina Cycle, L.A. Sleeve, PJ1, Mickey Thompson Tires, Valco, Goodridge, Carlisle Belts and Gates Belts.