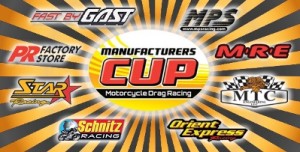 Early this week news broke that The Manufacturers Cup group and South Georgia Motorsports Park would hold competing events this spring, on the same weekend, less than 300 miles apart.
Subsequently, Tim Fleming of SGMP made a statement that he was willing to continue negotiations with The Cup members.  The Cup responded with a press release below.  Today the situation further intensified when The Cup threatened legal action against SGMP through motorcycle drag racer and lawyer Kenny Schwartz. The Cup is acusing SGMP of adding confusion to the marketplace by using the "Manufactuers Cup" moniker.
The Cup's response to SGMP –
Manufacturers Cup Motorcycle Drag Racing, LLC would like to clarify some erroneous information that has been published since announcing we would not be returning to SGMP for the 2013 season.
First, the concept of an organization put together, and run by, the currently active companies on the national event motorcycle drag racing scene was the brainchild of Jay Regan of Murdoch Racing. Shortly after the AMA Dragbike announced it was closing its doors, it was Jay who contacted the eight founding members in August of 2010 about funding the November Finals race in an attempt to keep national event motorcycle drag racing alive through the recession. All eight promptly and eagerly put their own money on the line to put on the event. The entire event structure including classes, purses, schedule and all other event details were put together by the group of nine. Tim Fleming of SGMP is not, and never has been, part of the Manufacturers Cup and he was in no way a co-founder of it.
The Cup would also like to correct errors reported as to the history of motorcycle drag racing. Due to the fact that the current SGMP owners and managers have only hosted all motorcycle national events for less than a decade, it is understandable that they may not know the long, storied and rich history of motorcycle drag racing on the national level. The "event" they claim to have started in 2007 actually dates back a solid thirty years! Early versions of the Finals were put on by Dragbike USA and held at Gainesville thru 1990. As the Prostar Finals, it moved to Bradenton in 1991-1992. It continued to grow as the Prostar Finals from 1993 thru 2007 while being held at Gainesville Raceway for this fifteen season period. Sadly, SGMP officials do not even have the correct year the event moved to Valdosta! To be exact, it was 2008, and not 2007, when the event moved. The primary reason cited, by then owner Scott Valetti of AMA Dragbike, for moving the Finals to Valdosta was the very attractive financial package offered by SGMP. Quite ironic given the current circumstances! SGMP was basically a new and relatively unknown facility trying to secure events to help make a name for itself in the drag strip market dominated by Gainesville Raceway. The Finals was run successfully by AMA Dragbike for the 2008 and 2009 seasons at Valdosta. The Manufacturers Cup took hold of the event beginning in 2010 thru the present and has held three successful events, also at Valdosta. There you have it; a factual and accurate history of the event SGMP claims to have just begun in 2007 at their place. The Manufacturers Cup realizes that we are only the current keeper of the sport; we recognize and respect all the hard work that has come before us and know there will come a time to pass the torch to yet another caretaker of the sport we all love so dear.
The decision to move the spring and fall events away from SGMP was not an easy one for the Manufacturers Cup Board. It was only after a face to face meeting at the PRI show between the two sides, where SGMP declined our 2013 proposal, that is was determined that we would not be able to continue having our events there. Numerous venues were contacted and it was finally decided to go with Bradenton Motorsports Park to host our events. Bradenton offered the Cup a combination of a very reasonable financial package, a venue willing to work with us , and very favorable historical weather data showing both April and November as very dry months.
It all boils down to a huge philosophical difference between SGMP and those of the Manufacturers Cup regarding the long term goals of a National Championship Motorcycle Drag Racing Series. The Manufacturers Cup is committed to perpetuating, and hopefully growing national motorcycle drag racing via all mean available. The Cup strives to manage all costs as best they can in an overall effort to be able to reinvest all the more back into the sport of National Event Motorcycle Drag Racing.. We are working hard to accrue enough Cup financial resources to survive a bad event, or events. We are creating a motorcycle drag race series not just an event. We have added a championship points chase last year and an additional event this year. We are doing everything possible to continue the highest paying purses in motorcycle drag racing, but are struggling with the costs. As many of you old timers know we have had many organizations throughout the years. They have all failed financially and are no longer in business. We do not feel this has been good for the long term health of motorcycle drag racing. We are dedicated to building an organization that will be here not just next year but the next decade. We have been blessed by fantastic weather at all six of our events and we do realize that somewhere along the line we are going to have a weather affected race or races. One of our primary responsibilities to the sport of motorcycle drag racing that we love so much is to negotiate reasonable venue fees for our events. Sadly, SGMP did not want to come on board for 2013 in this capacity and thus prompted our search elsewhere for a venue host who would.
The Manufacturers Cup Motorcycle Drag Racing, LLC is in this for the long haul. We ask all motorcycle drag racers for their support. We have a lot of unique, cutting edge ideas that we will implement, as finances allow us to, in an attempt to improve the overall caliber of our national events. We do understand the further South location does make the tow a bit longer on those Northeast, Midwest and Southwest racers and we promise you we will be working our butts off over the next 100 days to provide all racers with the very best event we can put forth. When you hit the highway on the April 5-6-7 weekend, make the drive to Bradenton to let everybody know that you and the motorcycle drag racing community stands together, just as the Cup leadership does, in the hopes of jointly building a better future for a National Championship Motorcycle Drag Racing Series!
Thanks for listening! Merry Christmas! Happy New Year! And may your 2013 racing season be rewarding and safe!