Chip Ellis has ridden a lot of sweet bikes in his long motorcycle drag racing career, but none as smooth as Junior Pippin's PiranaZ EBR1190RX. "As long as I've been racing Pro Stock Motorcycle, this is the best motorcycle I've ever had," said Ellis. And that says a lot, since Ellis was the development rider for G2 when they ignited the Buell revolution.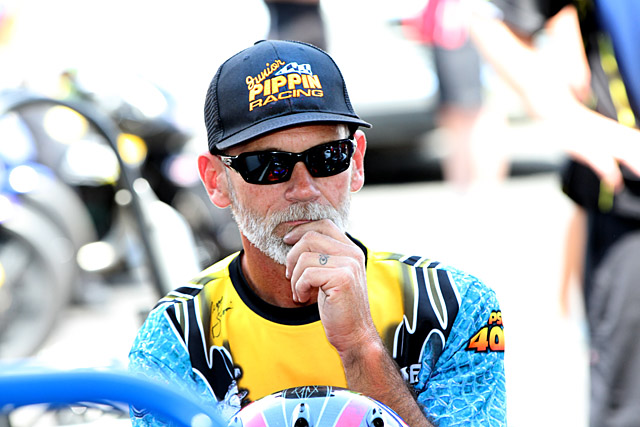 A whole lot of horsepower at the flick of his wrist surely helps make this bike one of Ellis' best. With the help of engine builder Brad Moore and crew chief/tuner Lon Moyer of Competition Engine Services, Junior Pippin has been steadily developing a better bullet for years now.
"We're trying stuff that nobody's trying," said Ellis. "I don't really care to discuss what that is, but I can tell you it's some cool stuff that we're working on, and we're struggling with it a little bit. But our bike is still fast, so once we get it figured out it's really gonna be fast."
Ellis expects to be very fast when the team unloads at Summit Racing Equipment Motorsports Park in Norwalk, Ohio for this weekend's 10th annual Summit Racing Equipment NHRA Nationals. After all, Ellis ran high MPH at 198.38 last time out at the Summernationals at Old Bridge Township Raceway Park in Englishtown, New Jersey. "I think that's the fastest Pro Stock Motorcycle MPH all year," said Pippin.
It was just after the Norwalk round last year that Pippin was diagnosed with inoperable, stage 4 nasal cancer. After massive doses of chemotherapy and radiation, Pippin's recovery has been nothing short of stunning. It seems that Pippin Power extends to Junior himself, not just his motors.
Junior Pippin and Chip Ellis would like to thank PiranaZ http://www.piranaz.net , Junior Pippin Trucking, Paul Bost Trucking, B&R Automotive, Adams Performance, Lisa Pippin, Lon Moyer, and Brad Moore.
contact Junior Pippin: jr.pippin@hotmail.com
for media inquiries: Tim Hailey timhailey@eatmyink.com
for more about the NHRA http://www.nhra.com/