NHRA Drag Racing star Angie Smith loves riding her 2016 Victory Gunner around her home state of North Carolina. Whether she's leisurely rolling down the scenic coastline or charging over the Tail of the Dragon, she has come to count on the power and consistency of her American-made muscle bike.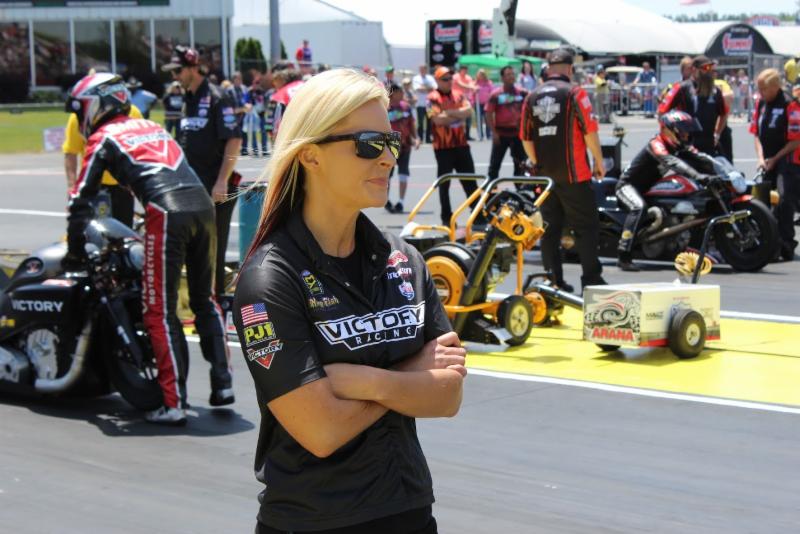 Now, as the NHRA Mello Yello Drag Racing Series moves to Northwest Ohio for this weekend's 10th annual Summit Racing Equipment NHRA Nationals, Smith is hoping her race-ready Victory Gunner Pro Stock Motorcycle provides her with just as much joy as her street version regularly delivers.
"We ran well in Englishtown (N.J.) and I expect us to build on that data and have a breakthrough weekend in Norwalk," Smith said. "Drag racing can be humbling. A couple hundredths of a second in performance can make such a big difference. You don't have to be far off to look silly, but at the same time a small gain can put you right in the mix.
"There is no lack of effort on this team, and we are doing everything we can to catch up to the front-running bikes and put these Victory Gunners in the winner's circle. It's going to happen; it's just a matter of when."
Smith and her husband, Matt, field a two-bike factory race team for Victory Motorcycles that was formed prior to the 2015 season. Going up against established brands that have raced the NHRA circuit for decades, the Smiths are anxious to show they belong in the championship conversation.
"Victory has been so supportive of us and we love them for it," Angie said. "I think we all know that it takes time, but that doesn't mean it hurts any less when we don't do well for them.
"I know when I ride my street bike around, people are blown away by the look of the bike and the technology that makes it so awesome to ride. The same can be said for our race bikes. We just need to show everyone that we can perform at the top level of motorcycle racing on a consistent basis. We're very close to making that happen."
Pro Stock Motorcycle qualifying sessions are scheduled for 5 and 7:30 p.m. ET, Friday, and 1 and 3:30 p.m., Saturday. Eliminations start at noon, Sunday. FOX Sports 1 will carry qualifying action from 8 to 9 p.m., Friday, and 7 to 8 p.m., Saturday. The first two rounds of eliminations will air live beginning at noon, Sunday, with a three-hour recap later in the evening, beginning at midnight