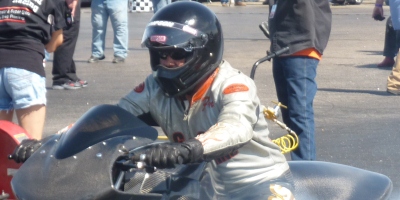 Frank Capone continues to maintain the points leads in the AHDRA Pro Mod Class. He advanced his points lead with a win at the AHDRA Ohio Bike Week Nationals presented by Ohio Harley Dealers Assoc. And teammate, Shaun Reno of Team Headblade was runner up with some amazing numbers.  Capone took out Reno in the finals with a .017 reaction time at 8.554 ET and 149.58 mph over a .008 reaction for Reno at 8.656 ET and a smoking 154.94 mph. These guys are cooking. Reno's runner up was enough to place him in the top 5 of the AHDRA Pro Mod class.
A dozen AHDRA/Norwalk race fans are now sporting Capone Racing Tee shirts after the Capone team participated in the AHDRA tee shirt BOOMER.
Capone's only regrets re: Norwalk was the fact that just a few backordered parts held him from jumping into the Rush Pro Gas class.
"we knew it was a long shot, but I kind of wanted to let those Pro Gas guys know we're on the way. I guess we'll do a little t & t closer to home and be ready to hit the road for Tulsa Raceway Park, Tulsa,  OK's AHDRA's Screamin' Eagle MidWest Nitro Nationals presented by Route 66 Harley Davidson June 30th and July 1st.  Reno's only regret, " I thought I could get him at the big end, Tulsa– we're coming to run!"
Capone's team consists of Mark Godin, Richard Murray, Craig Fisher, Lorne Buchanan and Katy Miller
.
Capone Racing sponsors and friends supporting Capone's record breaking season include: G&G Engineering, DAS Performance, L. Buchanan Co., Gannos Machine, Vanson Leathers and all the staff at Capone Landscape.
Capone can be reached at:
781-224-0700
and by visiting his website at:
Reno's team includes his wife, Kim, and his crew chief, Ricky Stewart.
HeadBlade, Inc., Hampton Roads Harley Davidson, SA (Steve Allstaedt) Racing
Reno can be reached at:
email renoscc@cox.net
phone (804)642-0554
We don't usually just post numbers but check out these qualifying passes from Norwalk, look out TULSA
| | | | | | | | | |
| --- | --- | --- | --- | --- | --- | --- | --- | --- |
| 24 | Frank Capone | 8.567 | 8.635 | 150.41 | 8.892 | 152.93 | 8.567 | 150.56 |
| 21 | Shaun Reno | 8.586 | 8.600 | 150.87 | 8.783 | 153.51 | 8.586 | 152.18 |