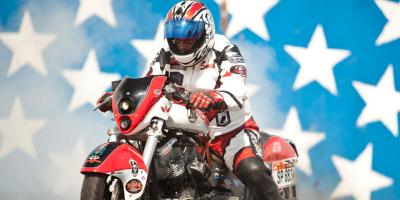 After a rainout, the North West Drag Bike Assoc fought the weather but completed their 1st race of the 2012 race series at Woodburn Dragstrip!
"Saturday qualifing was cold & wintery and the VSR4VETS race teams struggled all day. BUT after much discussions and cussing about the weather Smitty brought the Pro Street bike to the finals We ran Kerry Drost on hisPro-street Hyabusa and he had to hit a 50 shot of nitrous to get around us. We were a very respectable runner up with  9.10 to the Drost's  9.05,  a real good drag race!!. We learned alot this weekend , so there is lower E/Ts to come , stay tuned !!!!
Special thanks to my crew Stanley , Lori , Shawn , Katie & Stan 2   because I worked their fingers to the bone and also Special thanks to my buddy Bear & Glenn & Jaynie @ Motor Whiskey for their help on the flywheels ,and also Charlie and Carmen @ Biker's Choice for all the great parts , VSR4VETS wouldn't be  at the track without their support!!!!!!!! Next stop Sturgis for The WMDRA/Amsoil nationals , then back to Woodburn for The AHDRA Northwest nationals!!!!   VSR4VETS will announce the dates for the vet shows very soon!
Please remember, if it wasn't for our veterans we couldn't do what we do!
VSR4VETS would like to thank their sponsors for their ongoing support: Avon Tyres, Biker's Choice,Biker Net . com,
Black Widow Cams,Bitchn Seat Co.,Camille B Hook L.M.T. *,Chris Rivas V Twin,Columbia Harley Davidson *,
Davey Rocket RV Repair,Evolution Industries,E/T Performance,Hanson's Auto Body,Mickey Thompson Tires,Motor Whiskey,
Movers & Shakers,Oak Grove Choppers,Pacific Auto Trim,P.B.I. Sprockets,ProtectMyMotorcycle.com*,R/T Performnace,Spark of life Chiropractic,Spyke Inc., Tek Battery,Throttle Merchants,Tsubaki Chain,Works Performance Shocks*.
We would also like to thank our new ones , Camille B. hook , Columbia H.D. , Protect my motorcycle ,& Works Performance Shocks ! We would like to thank S&S Cycle inc. (Steve Rominski) for doing a great & very timely job on our new flywheels!!!
We have a good schedule this year including AHDRA, WMDRA and several NWDB Races