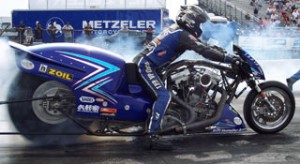 Screamin Eagle Nitro Harley racer Tak Shigematsu enjoyed a solid first event of 2007, qualifying No. 2 and advancing to the second round at the AHDRA Arizona Bikeweek Nationals. A broken wire halted the success.
After missing the AHDRA season opener in Gainesville, Fla. Tak Shigematsu, of Ehime Japan, began his title quest in sunny Phoenix, Ariz. March 31st-April 1st.
Shigematsu, not on the bike since Vegas last November, was more than anxious to get back, and didn't disappoint himself with his qualifying day numbers.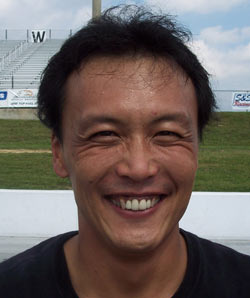 He managed to come off the trailer on his first pass and qualify on the pole with a 6.49.  He backed that number up with another 6.49 on the second pass.  The third pass brought another great number of 6.44, but Shigematsu was unable to hold onto the No. 1 spot after Mike Romine's third qualifying pass of 6.41.
In the opening round of eliminations Shigematsu easily took the win with a 6.50 over Steve Dorn's 9.99.
"I am very confident to win Phoenix," said Shigematsu after the run. "Numbers are so consistent,  it's like riding an ET bike."
However in round No. 2 Shigematsu would fail to make it down the track.  Mechanical problems forced the team to shut the bike off in the water box.
"When we started the bike at the line, it was running on only one cylinder" said crew chief "DJ" Don Johnson, who shut the bike down.  "We later found a broken wire to the ignition."
With mechanical gremlins fixed, Shigematsu joined the Outlaw race and went right back to those consistent numbers.  Shigematsu is scheduled to race next at the AHDRA's Gypsy Rendezvous Nationals in St. Louis on April 28-29.
"Thanks to "DJ" Don Johnson, Frankie Antion, Steve Nahill and Joey Sternotti," Shigematsu said.
Shigematsu also thanked his sponsors:  T.P.P. VP clutch, HD Blue Panther, A.I.M. Corp. , Energy One Clutches, Sundance Inc., Shoei Helmet, CP Psiton, EK Chain, Super Zoil, Forza leathers, A.S.C. carbon fiber, TM works