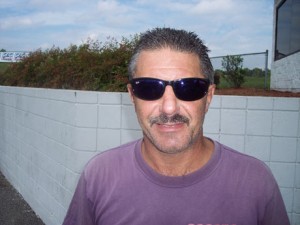 Nutley, NJ's native son and Harley Davidson Top Fuel drag racer, Larry "Drums" Brancaccio has been notified that he is the AMRA (American Motorcycle Racing Assoc) Top Fuel Champion. He will receive his Championship award at Bowling Green, KY, Nov. 13th.
Sanction owners Jane and Marty Vandenheuvel called Brancaccio after the season's points were tallied, Brancaccio was at the top of the national competitors in Top Fuel, the unlimited displacement nitromethane burning class.
Brancaccio, 52 yrs old and competing on nitro bikes for over 30 years, has ridden two nitro powered race bikes this season, but he was riding DJ Johnson's 186 cid, 14 inch rear tire, 1,000 horsepower Harley Davidson at AMRA Bowling Green National Finals to clinch the Top Fuel Championship.
Brancaccio and Johnson had been tuning the Top Fuel motorcycle dragster for four weekends, testing new gear combinations, clutch set-ups and new timing techniques. It was with Johnson that Brancaccio turned one of the world's quickest Top Fuel times with a 6.26 ET at 226.47 miles per hour in the quarter mile in a test session at Atco, NJ. Although a test session time is not good for the world record, it does show the power in the Johnson built and tuned hot-rod Harley and certainly proves the riding ability of Brancaccio.
The next event for these New Jersey horsepower-creating men will be at the AHDRA Jim McClure National Finals in Rockingham, NC, Oct. 8-11. However, this time they'll be on opposite side of the timing lights as Brancaccio will be riding his own bike and Takeshi Shigematsu will make the long flight from Japan to ride for Johnson.