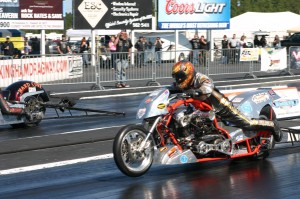 Larry "Drums" Brancaccio with Bammer Racing is in transit to AMRA's Jim McClure Nitro Nationals at Rockingham Dragway, Rockingham, NC.
According to Larry "Drums" Brancaccio, "We are on the way, the bike is prepped and the team is ready to ROCK at the Rock. We wouldn't miss the opportunity to honor our old friend and mentor, Jim McClure."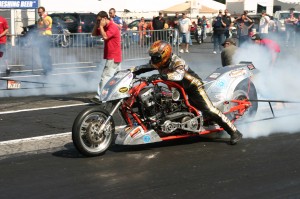 Bammer Racing's nitro pounding Top Fuel will be making horsepower and big noise for the spectators and sponsors.
Bammer Race Team consists of
Drums Brancaccio
Crew Chief: Michael Hopkins
Dickie Roberts
Joe Wysocki
Richard Murray
Sponsors for 2013 include:
Central Metal Fabricators  www.centralmetalfab.com
Anthony Augliera, Inc  www.augliera.com
Richard Murray
Keith's Custom Seats  www.keithscustomseats.com
World Wide Bearings  www.worldwidebearings.com
Capone Landscape  www.caponeracing.com
Vanson Leathers  www.vansonleathers.com
Tattooville Tattoo  www.tattooville.com
Autolite   www.autolite.com
Chris DiMaggio Property Services
Starlight Tattoo www.starlighttattoo.com