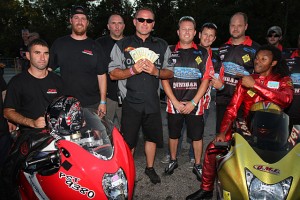 When the Mickey Thompson MIRock Superbike Series added Orient Express Pro Street's biggest payout ever—the $10,000 to win Battle Royale—to October 4-6's Fast by Gast Fall Nationals, NO ONE predicted two Pro Street neophytes would reach the final and battle for the big check. But when the world's quickest, fastest streetbikes took to Maryland International Raceway's meticulously prepped quarter mile, that's exactly what happened.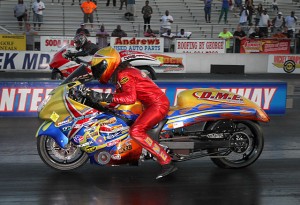 It was a very tough weekend for Pro Street veterans. Going into the last session, Frankie Stotz and his 6 second, turbocharged Honda CBR1000RR had yet to make it respectably down the track and were unqualified. Stotz squeaked in with a 7.17 in the final session—good enough only for 14th in the quickest streetbike field ever.
All-time streetbike champion of the world Mikey Slowe came out of his retirement slumber for this event, riding Maltese racer Simon Giordmaina's Rodney Williford-prepped turbo Suzuki Hayabusa. But Slowe—struggling to get a clean pass on the unfamiliar bike—was bumped all the way down to 19th and the B class in the chaotic final session.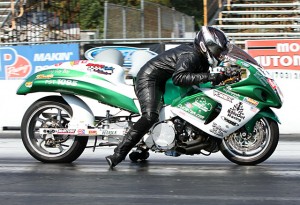 Three-peat champ Williford fared little better than Slowe, making the A field on the No-Joke 'Busa but losing in the first round of eliminations to Bud Yoder, who was on Mark Paquette's bike.
Joey Gladstone qualified number 1 on the DME 'Busa with a 6.986 at a whopping 215 mph, .001 quicker than Jeremy Teasley on Ronnie Mitchell's pink "Rizzo." Tony Ficher and his ragingly loud supercharged 'Busa was third with a 6.997 and Aruba's Terence Angela fourth with a 7.001. Chris Moore's 7.202 on Williford's "Purple Nitrous Bike Eater" placed him 16th and last.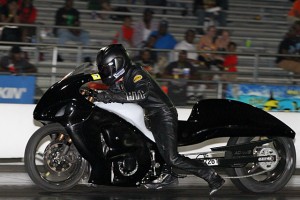 The semis boiled down to the top four qualifiers, with Ficher's 6.95 beating Teasley and Angela taking out teammate Gladstone 7.002 to 7.017. So after all was said and done, the final of the biggest Pro Street race ever would be settled between two riders who'd only very recently entered the class and neither whom had ever won.
It was a pretty sizable performance advantage that Ficher seemed to be bringing to the final, making it that more surprising when Angela posted his own 6.95 to take the win over Ficher's 6.98—the first ever side-by-side 6 second Pro Street race. "It's amazing!" said Angela. "To go the final, run my first 6, get my first win, and all the cash—I don't know what to say. It's just amazing."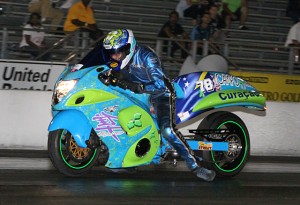 "Terence stayed in the 7.0s from testing all the way through the 6.90s on raceday," said DME team boss Dimey Eddinger. "He kept his head straight and I couldn't ask for anything better."
Another islands racer, Rendolf Torbed of Curacao, won Pro Street C and Wisconsin's Ryan Hable won Pro Street B.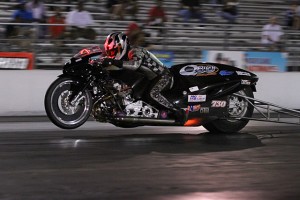 Largely overlooked because of the Pro Street excitement was one of the greatest Mickey Thompson Pro Mod eighth mile races of all time. The sharp end of the field was very sharp, with Casey Stemper's 4.032 squeaking out number 1 ahead of Maryland native Ronnie Procopio's 4.034. Multi-time champ Billy Vose qualified third with a 4.08, the first 4.0 by the Mike Thyen owned MPS 'Busa—or any 'Busa, for that matter.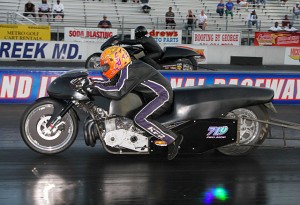 Veteran Paul Gast joined the 4.0 club on raceday with a 4.05 win over Vose. But Gast couldn't hang with Stemper's 4.039 in their semifinal pairing, and Stemper's pass wasn't even good enough for lane choice in the final! Procopio's 4.036 took that honor, but paled in comparison to his winning 4.019 at 175.25 mph against Stemper in the final round.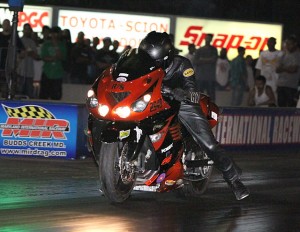 Defending DME Real Street champ Johnny "Turbo" Dobrin stole some of the massive event's thunder on Saturday with a 7.750, good enough to secure the number 1 spot on his Exoticycle turbo 'Busa. Seven bikes qualified quicker than 8 seconds in the biggest Real Street field of the year, but the final still featured the usual suspects Dobrin and multi-time champ Jeremy Teasley. Dobrin gave up the tree with a .121 to Teasley's .067, then ran .005 slower than Teasley's Roger Starrette owned and tuned, nitrous-huffing Kawasaki ZX14. "We finally fixed the nitrous in fourth gear and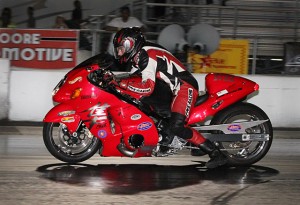 started going fast," said Teasley, who'd been giving up the winners circle lately but still has enough points to basically just qualify at Rockingham and claim his fifth Real Street title in multiple sanctions.
Tom Federici was the only, and thus winning, competitor in Real Street B.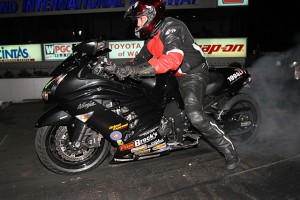 Teasley also has the MIRock Crazy 8s championship pretty well locked up, but the race win this weekend went to Connecticut Kingpin Bob Carlson, who beat former champ Eddie "Who" Chapman in the final. Carlson also won Saturday's Brock's Performance Street ET final over Jordan "By the Fire" McDougald.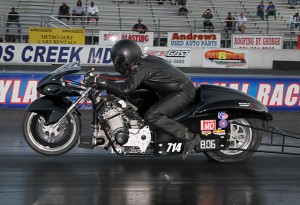 The Trac King/APE Top Sportsman final was a battle between the two super-clean turbo 'Busa dragbikes of Brian Canoles and Kevin Hamilton. With only .004 difference in their reaction times, Canoles ran closer to his dial-in to take the win.
Hamilton, though, won Saturday's Fast by Gast Pro ET final over Bob Mathias. Clay Davies won Sunday's Pro ET final over Wayne Smith, who kept his clutch cool enough to win the Street ET final over Andrew Charcalla that very same night. Chuck White won Friday night's gambler's race.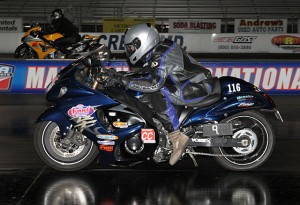 It's a rare Louis Concrete 4.60 final that doesn't include either or both Kenny Cornnell and Ronnie Smith, but that's exactly what happened when Frank Christian beat Terry Tompkins. Cornnell racked up enough points, though, to claim the first ever championship in the world's quickest motorcycle index class.
"Fearsome" Andy Baumbach won the FBR Shop 5.60 final over Michael Ostrowski.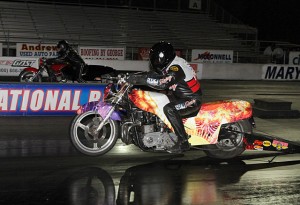 Saturday night's Afterdark Undergound's feature race had Darion "Nanu" Payne taking the win on Derek Henderson's "RG3" GSXR1000 when Lavar "Lil' Charlie" DeLee's "Mandingo" 'Busa flubbed the 3-4 shift.
It will be hard to top this huge event's 826 entries—the biggest MIRock race ever—but the Mickey Thompson MIRock Superbike Series aims to do just that at the upcoming Lee's Performance World Finals, November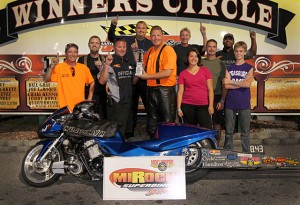 1-3 at legendary Rockingham Dragway. In addition to the return of pro classes to Rockingham, that race will feature the always intense Street and Pro ET Tournament of Champions as the world's biggest motorcycle drag racing series winds down it's 2013 season.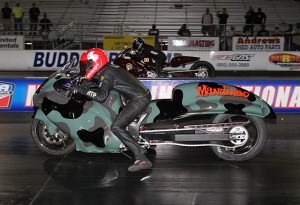 This report was prepared by Tim Hailey. Photos are for editorial use only. Enjoy everything there is to read, see and watch about motorcycle drag racing and more at http://www.eatmyink.com