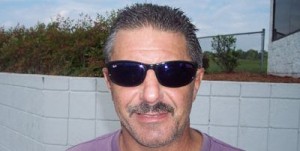 The AHDRA's  Northeast Nitro Nationals Presented by  Brian's Harley Davidson at Atco Raceway, Atco, NJ is held at one of the closest tracks to home for the Bammer/Starlight Tattoo Screamin' Eagle Top Fuel drag bike and Larry "Drums" Brancaccio always the showman was happy to have all his friends and family at the track.
Brancaccio  qualified number 6 on Saturday.  In the eliminations on Sunday he took out "the MAN from Japan" Tak Shigematsu with neither bike or rider performing at peak performance.  In the semi-finals Brancaccio spun the tire and was defeated by Doug Horne who went on to win not only TF but PF as well.
"With the computer coming in on Thursday before the race we're still working out the bugs.  We didn't have much time after the Pit Stop pre race party at Brian's Harley-Davidson (where we had a BLAST) we did try to set the computer, but we are missing a couple sensors and they're on the way. We had some help on the clutch set up but without the proper sensors, we couldn't read that that the clutch wasn't hooking up and that explains why we're "cooking so many clutch plates"  and probably part of the reason that we spun the tire against Doug Horne in the 2nd round. But, it was a great weekend, I think the guys from Starlight Tattoo loved the "sick" machines and I look forward to working with them this season."
Brancaccio is proudly sponsored by: Starlight Tattoo, Capone Landscaping, Keith's Custom Seats, World Wide Bearings, Vanson Leathers, Central Metal Fabricators & special thanks to: Barnett Clutches & AutoLite.
Check your calendar and see Drums and the Bammer/Starlight Tattoo Nitro Harley at:
August 6-7 AHDRA at Thunder in the Valley Nationals, Bristol Dragway, Bristol,  TN.