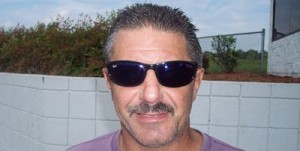 Nutley, N.J.  native and local iron worker, Larry "Drums" Brancaccio made his annual pilgramage south to participate in the first event of the All Harley Drag Race Association in conjunction with the Daytona Bike Week Festivities.
Orlando Speedworld hosted the Screamin' Eagle Top Fuel field in which Drums competes. Although the weather was wonderful for racing a set of batteries held Brancaccio off his pace. He made the quick 8, but it was a late night of wrenching to be ready for Sunday's very competitive show. Brancaccio made 2 rounds before being defeated by Tommy Grimes of Pfafftown, NC.
Brancaccio will next perform at the Manufacture's Cup in Valdosta, Ga.
Brancaccio is proudly sponsored by: Capone Landscaping, Starlight Tattoo, Keith's Custom Seats, World Wide Bearings, Vanson Leathers, Central Metal Fabricators & special thanks to: Barnett Clutches & AutoLite.