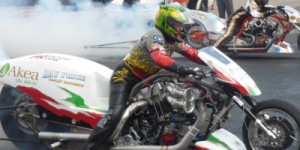 Nitro Harley Drag racer, Tommy Grimes competed with the AHDRA's season opening event at Orlando Speedworld, Bithlo, FL. Riding in the Screamin' Eagle Top Fuel field, Grimes powered his way to the finals against Doug Horne, only to go home with a runner up after tire spin mid track slowed his pace.
Grimes quickest pass of the weekend was 6.532 ET and his fastest mph was 227.46 mph.
Grimes and Ray Price Racing will next perform at the Manufacture's Cup in Valdosta, Ga, where Grimes ran a world record pass at 6.13 ET at last fall's Manufacture's Cup event.