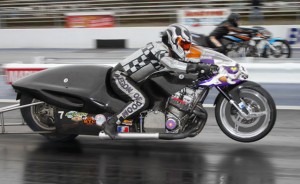 Nearly 500 racers and a sizable spectator crowd at the Fast By Gast Spring Nationals at Maryland International Raceway showed that the successful Mickey Thompson Performance Tires MIRock Superbike Series season debut in Rockingham was the "new normal" for the world's largest motorcycle drag racing series. Racers from as far away as Japan showed up to test their bikes and skills on MIR's meticulously prepared, super sticky, widely acclaimed quarter mile.
Michigan's Rob Budgell arrived with a brand new NLR turbo and intercooler system and qualified #1 in Orient Express Pro Street, a class that seemed sure to see a new record after Ryan Schnitz ran a 7.08 while testing the HTP Performance nitrous Hayabusa the week before. But Ryan's Wizards of NOS nitrous controller decided to get wonky at MIR and go straight from 0 to 100% with no progression in between. That sent Schnitz on several wild rides on a day that already saw Doug Witt crash hard while wheelieing his own nitrous 'Busa. So with that problem unresolved, Schnitz sat out his round 1 eliminations pairing with Budgell.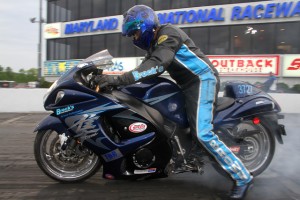 Rob eventually lost his semifinal to Dimey Eddinger, while champion Rodney Williford won the other semi over impressive Pro Street first timer Carl "Junebug" Lucas, riding Ricky "Bud Light" Wood's bike. Williford won the final with a 7.15 and his third straight 200 mph lap—not records, but not bad.
Despite having motor problems in both his Pro and Real Street bikes, Jeremy Teasley was able to win another DME Real Street race. Teasley's Adams Performance/RS Motorsports Kawasaki ZX14 kept lifting the wheel on the top end as the team worked to find how much nitrous the bike wanted for MIR's conditions. Still, Teasley qualified #1, kept clicking off 7.80s, and once again got the best of teammate Mark Billiter in the final.
Ronnie Procopio proved he's the man to beat in Mickey Thompson Pro Mod, qualifying #1 and winning his second straight. Procopio beat Mark Paquette, who failed to back up his MIRock quickest-ever 4.07—run in round 1 over an upset Dave Norris. Dave's quickly got his new bike running in the teens, but he's been in this nitrous/turbo battle before.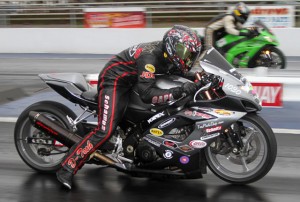 Brick City's Ashon "Capo" Dickerson sliced through the largest ever House of Speed Crazy 8s field for the win. Dickerson nailed a .002 on South Carolina's Ray Morris and kept his GSXR out front to take the finishline.
Maryland auto bodyman Mac McAdams beat Long Islander Mike Ostrowski in an all-wheelie bar Fast By Gast Pro ET final late, late, late on Saturday night. McAdams handily took the tree and Ostrowski broke out chasing. Sunday's race favored the no-bar bikes, as Boo Brown beat fellow finalist Kip Green. Kip took the tree .001 to Boo's .002—crazy sharp lights! Boo wheelied at about the 60 foot and seemed to have lost it, but Kip wheelied huge from about 100 feet 'til half track and gave up the stripe. James "2 Lane Blacktop" Taylor redlit against Jay Windsor, giving Jay and his screamin' yellow Kawasaki the FBR Shop Top Sportsman win.
Virginian Mike Shulz took the eighth and final round of Schnitz Racing Street ET on Saturday night when Lanta Smith went -.009 red and threw away an 8.951 on an 8.95 dial-in. And "Fearsome" Andy Baumbach won Sunday's final over Willis Warren Jr., who waited patiently while Andy and his boy Toney pushstarted his 'Busa.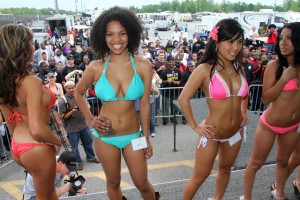 Pennsylvania's Sam Parks won Real Street B over redlighting Christopher Knight. And the bikini contest? Only the best ever outside of the always awesome July WPGC BikeFest, as was Saturday's spectator crowd.
The biggest grudge race of the weekend was Lil' Charlie on HTP's "Sub Zero" 1000 vs. the all-motor crowd favorite "Cranky" Hayabusa on Sunday afternoon. Greg Wallace redlit on Cranky.
Results: http://www.mirockracing.com/results/2011/race2-mir/index.htm
The Mickey Thompson Performance Tires MIRock Superbike Series races next May 21-22 at the FBR Shop Bike Week Nationals at Rockingham Dragway in Rockingham, North Carolina, USA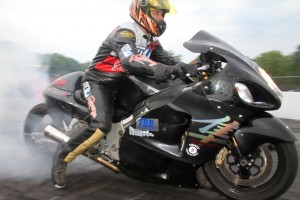 Find out more about the Mickey Thompson Performance Tires MIRock Superbike Seriesat http://www.mirockracing.com
This report was prepared by Tim Hailey. Enjoy everything there is to read, see and watch about motorcycle drag racing and more at http://www.eatmyink.com