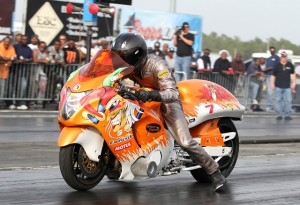 Multi-time motorcycle drag racing champion Jeremy Teasley was not having one of his customary easy weekends—not by a longshot. Looking to win his first Orient Express Pro Street championship, the 21 year-old Ohio native Teasley moved into the seat of Kenny Edwards' "No Joke" Suzuki Hayabusa. Immediately, the bike started running record numbers but destroying tires while it did so. Edwards took the radical step of changing from the class standard 190 tire to an 18 inch tall, 8.5 inch wide wheel shod with a Continental Attack 240 race tire cradled in a new Roaring Toyz swingarm.
The team brought the new combination to the Honda-Suzuki of Sanford Spring Bike Open—the opening round of the 2012 Mickey Thompson Performance Tires MIRock Superbike Series, the biggest championship in motorcycle drag racing. But in Friday night testing, the big tire struggled to handle Rockingham Dragway. By the end of the night, Edwards decided he was switching back to the 190.
But the turbocharged Suzuki Hayabusa wasn't doing much better with the 190. With heavy spring pollen coating everything in sight, the high-powered Pro Street bikes battled for grip. Number one qualifier was taken by the unheralded Danny Cox with a 7.24 at 201 mph, riding the Hampton Roads Harley-Davidson sponsored nitrous 'Busa built and tuned by HTP Performance's Cecil Towner. The HTP Performance 'Busa ridden by Hoosier Ryan Schnitz, the first bike ever to run a 6 second quarter mile on a street legal tire, was stuck in fifth and Teasley in sixth.
Two time defending DME Real Street champ Teasley posted a very rare redlight in round 1 of his title defense in that class. His weekend seemed to be getting worse by the minute. But Pro Street whittled its way down to Teasley and Schnitz in the final. As the bikes spun off the line, Teasley grabbed the track and powered to the finishline for the win while Schnitz spun again and sat up on the bike.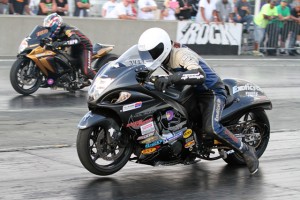 That wasn't the only win for Teasley and bike owner/tuner Edwards, as Jeremy also won FBR Shop 5.60 on Edward's Suzuki B-King. It's a hallmark of Teasley's skill that he's able to move seamlessly between vastly different kinds of equipment in classes with very different demands. Teasley and the B-King streetbike beat Jason Herron and his GS dragbike on a holeshot in the eighth mile index class.
Teasley's early Real Street ouster opened the door for Floridian Johnny "Turbo" Dobrin, who doesn't need much of an opening. Dobrin's won many Real Street races at Rockingham's sister track Maryland International Raceway, but Teasley came into the weekend winner of nine out of the last ten at The Rock. Running turbo record numbers (7.777) on his 'Busa, Dobrin beat Brick City's Ashon "Capo" Dickerson's nitrous Suzuki GSXR1000 in the final.
Defending class champion Ronnie Procopio continued his domination of Mickey Thompson Tires Pro Mod, qualifying number one with a 4.14 and taking the final round win over longtime rival Robbie Hunnicutt in the hair raising eighth mile class.
Keeping as much of it in the family as possible, Teasley's older brother Brandon won House of Speed Crazy 8s on his beautiful blue 'Busa. Brandon beat number one qualifier Chuck Victor in the final.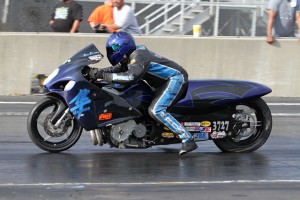 MIRock veteran Boo Brown celebrated his birthday by winning Trac King/APE Top Sportsman, overcoming a .015 light by his rival Shayne Proctor in the final. But on Saturday, Brown fell victim to Virginia racer Mike Schulz's relentless march to two Brock's Performance Street ET wins. Schulz beat perennial runner-up Terry "T-Bone" Singleton in Sunday's final. Jerry Turner beat Clay Davies in Saturday's Nitrous Express Pro ET final, and Clay's brother Matt fell victim to Michael Herman Sr. in Sunday's final.
Saturday night's Afterdark Underground saw passes by some of the most famous and elusive grudge bikes in the land, including the near-mythical "Area 51" and HTP's "Cobra Commander."
The Mickey Thompson Performance Tires MIRock Superbike Series returns to action April 28-29 with the Fast by Gast Spring Nationals at Maryland International Raceway.
Results: http://www.mirockracing.com/results/2012/race1-rock/index.htm
Find out more about the Mickey Thompson Performance Tires MIRock Super Bike Series at http://www.mirockracing.com
This pre-race report prepared by Tim Hailey. Enjoy everything there is to read, see and watch about motorcycle drag racing and more at http://www.eatmyink.com