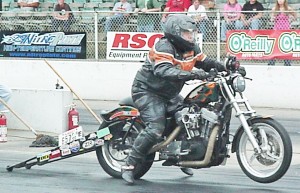 Team Half Fast Drag Bike Racing of Ypsilanti, Michigan is proud to welcome Lucas Oil Corporation, (www.LucasOil.com), Accel Motorcycle (www.accel-motorcycle.com), Goodson Tools and Supplies (www.Goodson.com), and PBI Sprockets (www.pbisprockets.com) to the Half Fast Family!
"We've been working with the Lucas Oil Motorcycle product line for several years now on the regional level.  They've just signed on as a major sponsor, and we're very excited to be expanding our relationship," says Chip Sutinen, racer for Team Half Fast Drag Bike Racing.  "Lucas Oil products have long been a favorite, and we're thrilled to be continuing with the reliability and consistency their motorcycle product line brings to our racing effort."
"The PBI Sprockets and Accel Motorcycle sponsorships are new to our team this year, though we've been using their products for years," continues Sutinen.  "And we've wanted to try the bee hive racing springs for some time now, and Goodson Tools made that happen.  It's great to have them all on board for the 2012 Season.  We can't wait to get on the track and start racing.  We have such incredible support for 2012, and we think it's going to be a great year.  I know we're going to have a blast moving Half Fast!"
The team would also like to thank their returning 2011 sponsors:  Design Engineering, Inc. (www.DEIcycle.com), EBC Brakes (www.EBCBrakes.com), Vital Virtual Services (www.vitalvirtualservices.com), Supernate of Super V Cycles in Florida, and Airgas of Plymouth, Michigan (www.airgas.com).