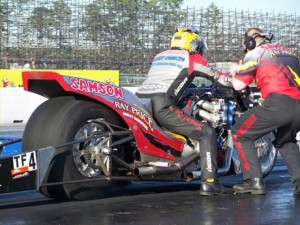 AHDRA announced today the signing of Gainesville Harley-Davidson as the Presenting Sponsor of the AHDRA-Florida Nitro Nationals, which is expected to be the largest season opener ever for AHDRA.
Gainesville Harley-Davidson, General Manager, Kevin Lytle says he and his staff are extremely excited about the event. "It's absolutely perfect. It's exactly what we have been looking for to market the Harley-Davidson product. It's a top-level track, and a top-level event with a great product to promote. We've been involved in several racing events, including ProStar and the Gatornationals, but never to this extent. Sponsoring the AHDRA event is just perfect."
Gainesville Harley-Davidson dealership has been in business nineteen years, they have received the Circle of Achievement Award six years in a row, an award that the Motor Company presents to dealerships for outstanding performance. Gainesville Harley-Davidson is proud of their commitment to the customer and the Harley-Davidson name.
The activities surrounding the Florida Nitro Nationals Presented by Gainesville Harley-Davidson will start up on Friday, April 20th, at Gainesville Harley-Davidson. Gainesville Harley-Davidson will be hosting the AHDRA Nitro Party from 5pm-8pm. Race fans can stop by to meet AHDRA racers and get a sneak preview of their extreme nitro burning machines.
Racing action gets underway at Auto Plus Raceway at Gainesville, Saturday, April 21st with qualifying at 10:00am. On Sunday, April 22nd, eliminations for Pro classes kicks off at 12:30pm with Sportsman classes immediately following.
AHDRA President, Craig Tharpe says, "fans can expect to see the largest field of competitors in the history of AHDRA.  It's going to be huge. We are very fortunate to have continued great support coming from Screamin' Eagle Performance Parts and Gainesville Harley-Davidson and it will no doubt be our biggest debut ever."
Admission to the Florida Nitro Nationals Presented by Gainesville Harley-Davidson is $50 for 2-days and single day passes are $30. Children under 11 are admitted free, active and reserve Military are admitted free with valid Military ID and H.O.G. members receive a $5 discount at the gate.
The Host Hotel for the Florida Nitro Nationals will be the Paramount Plaza Hotel & Suites, 2900 SW 13th Street, Gainesville, FL 32608 – 877-992-9229 reservations only – Local Phone: 352-377-4000 – Reserve now for special AHDRA rate
Reservations must be made by April 4, 2012 in order to receive the special rate.
Discount tickets are available at Gainesville Harley-Davidson!  For more information on Gainesville Harley Davidson, visit: www.gainesvilleharley.com.
For more information on Auto Plus Raceway of Gainesville, visit: http://www.autoplusraceway.com
For more information on the Florida Nitro Nationals Presented by Gainesville Harley-Davidson, please contact 336-924-2095 or visit www.ahdra.com.