Motorcycle drag racing's own version of "The Big Go" returns to New Jersey's historic and bike-friendly Atco Dragway for the 47th annual Orient Express Motorcycle U.S. Nationals on September 2-4.  Unlike the past the three seasons, the race will be independent of a series.
High-horsepower motorcycles, Atco's party atmosphere, and that attitude only found on the East Coast all mix well to create this one-of-a-kind action cocktail. Top Fuel Motorcycle will not be a part of this year's event.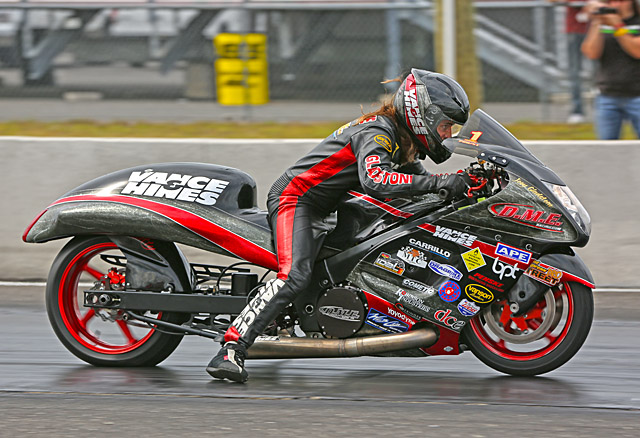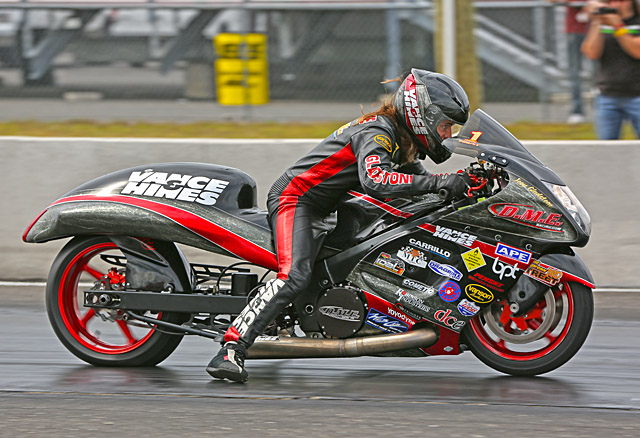 Headlining the on-track activity are the 700 horsepower street legal rockets of Orient Express Pro Street, and no Pro Streeter is more confident to return than defending U.S. Nationals champion Ehren Litten. He started this year off with a Manufacturers Cup win in Valdosta and is looking to repeat on his Rodney Williford-built and tuned turbocharged Suzuki Hayabusa.
His toughest challenge may come from the supercharged "Master Blaster" 'Busa of Tony Ficher. This stunningly loud bike from Massachusetts is always set on "Kill" by builder/tuner Eric Paquette.
But if Brad Mummert has the latest revision (one of many!) of his old-school GS bike dialed in, then he and local-favorite rider Richard Gadson will be ones to beat.
Throw in studs like Litten's teammate Mark Gargiulo, Darion "Nanu" Payne, Jordan Hasse, Keith Correia, Doug Witt and more and you've got a potent mix of "Anybody Can Win."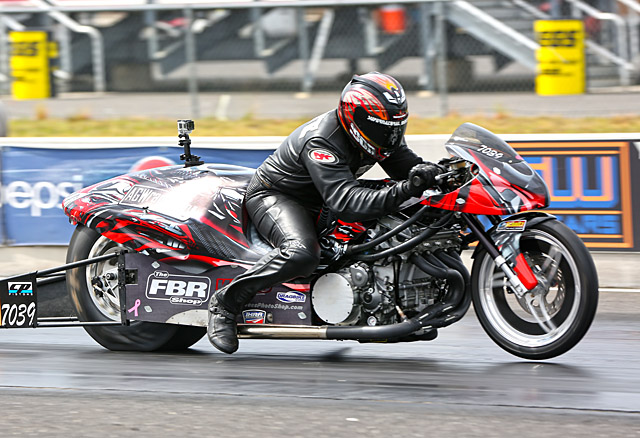 Same deal in Real Street, where a gnarly field of nitrous, turbo and all-motor bikes battle straight-up. Gadson, in fact, will be challenging on an all-motor bike, and expect Brick City legend Ashon "Capo" Dickerson and Connecticut's Ed Murphy to do the same on their NOS GSXRs.
Kevin White is the defending winner of the world's quickest motorcycle index class, 4.60. He can expect a strong challenge from "Long Island Mike" Ostrowski and many others in this always growing, always exciting eighth mile class.
5.60 gets the eighth mile job done one second slower, and expect Ostrowski to challenge there as well. He won this race last year and will defend his turf with every trick in the game.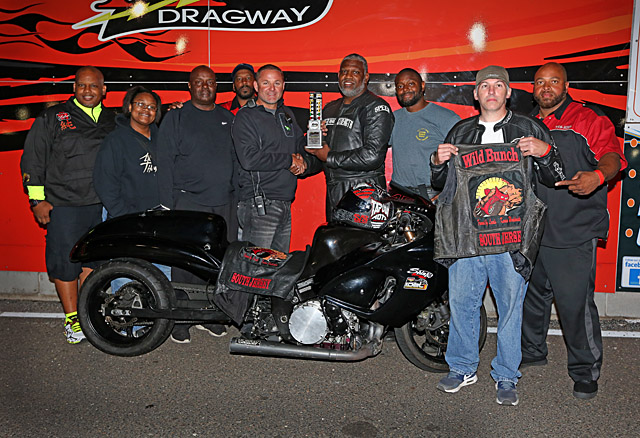 Busy Gadson will also be riding Mike Belo's 1-Stop Speed 'Busa in 5.60 and many other classes, including as a defending Street ET winner.
Expect all the East Coast studs like Windsor Davis, Anthony Faiello, Bob Carlson, Tommy Miceli, Van Boyce, Anthony DiFeo, Lonnie and Ashley DeTurck and many more to be dishing out that Atco attitude on AND off the track in Street and Pro ET, Crazy 8s and Top Sportsman.
Then there's Grudge. In no other class are attitude, humor and hostility on display more thoroughly than in Grudge, and no place does it better than Atco.
Also on tap will be Atco's homegrown Club Warz, won last year by South Jersey's "Wild Bunch" but surely to be hotly contested again this year by all the Philly area clubs.
And you know the whole event will be run properly with Maryland's David Roberts in the staging lanes, Fabian Brown in the booth, and Len Capone and Joe Sway's whole Atco crew. Then at the end of each day, there's the famous Atco bar.
Payouts are big and guaranteed. It's the Orient Express Motorcycle U.S. Nationals…it's what motorcycle drag racing's all about. The oldest and the best, you will not want to miss this or any edition of this famous race.
Find out more about the 47th annual Orient Express Motorcycle U.S. Nationals at http://atcodragway.rocks/?page_id=3412