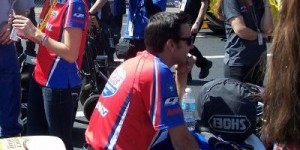 Lucas Oil Buell rider Hector Arana Jr. is one of the top riders in Pro Stock Motorcycle, but the 24-year-old said he learned a valuable lesson during the Auto-Plus NHRA Nationals on Sunday at Maple Grove Raceway.
Arana left .004-second too soon in the second round, handing the round-win to L.E. Tonglet, but Arana vowed to handle some staging games played by Tonglet differently in the future.
"It felt normal," Arana said. "I just screwed up, I guess. They play games and I played into it. I shouldn't have done that. I should have burned his ass down. That's all right. I'll get them back."
Arana said that after the two completed their burnouts, Tonglet went directly in the staging beams, lighting both bulbs before Arana could light the pre-stage bulb.
"He did his burnout and then went right in and double-bulbed me," Arana said. "I should've waited because there are no timers, but when that happens you feel rushed. Once you go in you've got to keep going because the timer's started."
Arana said he will take his time and go in at his own pace the next time someone double-bulbs him.
Arana, who remains second in the points standings, got to the second round with a victory over Wesley Wells. Arana made a pass of 6.893 seconds at 192.80 mph to outrun Wells' 7.474 at 139.54 mph.
Arana was consistently quick at Maple Grove, and his E1 pass was the second-best of the round. He had lane choice over Tonglet for the second round and chose the right lane.
Arana remains in contention for the title with two races left in the Countdown to the Championship. He's 125 points out of the lead and knows it won't be easy.
"We're going to fight to the end," Arana said. "It's not over yet."