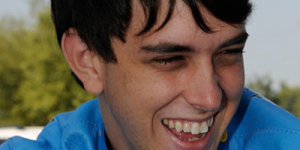 A faulty engine part played a big part in LE Tonglet's semifinal loss at Sunday's Auto-Plus Nationals at Maple Grove Raceway near Reading, Pa.
He was leading Eddie Krawiec in the second round when the problem began. The Nitro Fish/Tonglet Racing Suzuki GSXR slowed and Tonglet lost the lead and the race. "It was only a few hundredths of a second," he said, "but it wasn't enough".
The winning time was 7.005 seconds at 190.40 mph to 7.002 at 189.34 mph.
Tonglet began the day with quarter-mile lap of 6.988 seconds at 190.54 while Scotty Pollacheck fouled. He also benefitted from a foul start from Adam Arana in the next round. Tonglet cruised through in 6.987 at 190.19.
He remained sixth in Mello Yello points (2,299), only 46 behind Krawiec.
The race was the fourth in NHRA's Countdown to the Championship playoffs and the last of four in a row.
"That will be a relief for our team," commented Tonglet. "We have three weeks off to really get ready for our last two races."