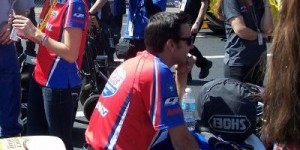 Lucas Oil Buell rider Hector Arana Jr. is looking to get back the points lead when eliminations for the Auto-Plus NHRA Nationals begin Sunday at Maple Grove Raceway.
Arana fell out of the Pro Stock Motorcycle lead for the first time all season last Sunday, but with a new engine in his Buell he's looking to get it back.
"I feel good going into tomorrow," Arana said. "I've been consistent as a rider this weekend. I've had good lights, and I've been focusing on riding well in every round and trying to make my best passes. I feel good.
"Even though we fell back to second, I feel less pressure because now the target is off my back, and I'm gunning for (points leader Matt Smith). I'm the lion going for my prey."
Arana came to Reading 75 points behind Smith but grabbed 10 points in qualifying to cut the deficit to 67 heading into eliminations. He qualified No. 2 with a top pass of 6.862 seconds at 194.55 mph and squares off against Wesley Wells in the first round. Wells is the No. 15 qualifier with a top lap of 7.139 seconds at 183.84 mph.
"Consistency is what we're going after," Arana said. "Of course we were going after No. 1, but we'll take No. 2 and do the best we can Sunday."
Arana, the Pro Stock Motorcycle wins leader with four victories this season, has a fresh engine for Reading, one named "Abigail" after his younger sister. Abigail replaces "Gracie," the engine named after his mom that was damaged in Dallas.
"We worked as hard as we could trying to bring back Gracie," Arana said of his previous engine. "She's still sick, so we had to leave her at home in the recovery room. We brought out Abigail, and her and I have gone down the track with some of our best passes last year. I think my quickest pass was with her last year.
"We had a good base tune-up to go to. She's a really good motor, so we brought her back out."