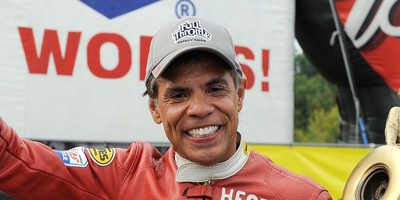 Even though Lucas Oil Buell racer Hector Arana Sr. had a first-round misstep, Arana Racing had a stellar day at the NHRA Four-Wide Nationals on Sunday. Son Hector Jr. raced to the final round, setting the national speed record in the process.
"Overall, I'm happy for Hector and the team," the team patriarch said. "His bike was fantastic today. Now, we've got to get my bike going that fast."
Arana built a new chassis and body for the 2015 Pro Stock Motorcycle season, but teething problems forced him to revert to an older bike for Charlotte.
The bike was strong in qualifying, snaring the No. 6 spot, but against No. 3 Angelle Sampey, No. 11 Scotty Pollacheck, and No. 14 Matt Smith, Arana's 6.948-second pass at 191.59 mph wasn't enough to advance to the second round. Both higher-qualified riders, Arana and Sampey, mysteriously failed to advance out of that quad.
"We've got some work to do before the next race," Arana said. "We've got to get home and evaluate what we are doing to see where we can get better. Fortunately, we have some time before Atlanta, so hopefully we will be better when we come back."
Arana, the 2009 Pro Stock Motorcycle champion, and his team are planning to work with Erik Buell Racing in the development of the new EBR body and hope to test the new bike before Atlanta.
"We know the new bike can be better," Arana said. "We just need to get in there and get working on it. It takes a lot of work to get a bike running well, but that's the only way to do it."