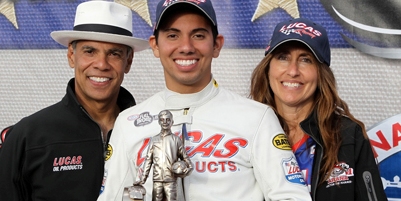 After topping the leaderboard during Saturday's qualifying session, Pro Stock Motorcycle rider Hector Arana Jr. propelled himself to a final-round appearance and a runner-up finish at the NHRA Four-Wide Nationals on Sunday.
Running against Chaz Kennedy, Jim Underdahl, and Katie Sullivan in the first round of eliminations, Arana's 6.860-second pass was good enough for him to advance.
Despite battling starting issues in the semifinals, Arana was still able to lower the boom with a 6.795-second pass at 199.26 mph even after a .112 reaction time against Kennedy, LE Tonglet, and Eddie Krawiec.
Pulling out to an early lead on his Lucas Oil Buell in the final round against Scotty Pollacheck, Andrew Hines, and Krawiec, Arana came up just shy of another NHRA Four-Wide Nationals victory when Hines captured the holeshot win.
"Today was definitely very exciting," Arana said. "We ran well, but we spun the tire a lot more in E1 than we thought we were going to based on qualifying. We were good, then we just had some issues with our clutch, and it just all of a sudden started going away from us, causing us to blow the tire off. So we made some changes for E2, and we went in the right direction.
"We were still bogging, though, and went a little too aggressive, so we had to back it off for the final round. We thought we had backed it off enough, but evidently we didn't because it still bogged."
Proving run and run again this weekend that he had the bike to beat, Arana turned heads as he set a new national speed record when he ran 199.88 mph in the final round.
"Overall, we had a great weekend as far as performance goes," Arana said. "We qualified No. 1, and then we ran 199.26 mph to tie the national speed record. I was able to then turn around and run 199.88 mph to break the record and bring the record home for us. I was so close to 200 mph, but it's definitely an awesome feeling to be that close and to know that it's there."
After leaving the season opener disappointed, Arana rebounded and moved to fifth in the points standings.
"This was definitely a really good rebound from Gainesville for me," Arana said. "The whole team is excited with all the potential we clearly have. I'm sure we turned a lot of heads this weekend, and we look forward to what will come for the rest of the year."