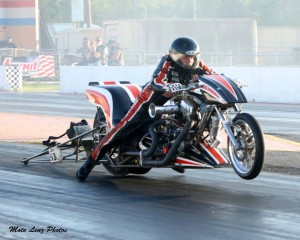 Jim Doyle had a weekend to remember at the AMRA Cajun Blowout Nationals from State Capitol Raceway in Baton Rouge, La., March 28-29.
"After finishing runner up in the 2014 AMRA Nitro Funny Bike points, I was really looking to start off this season better than last year.  My goal entering this weekend's 4th Annual Cajun Blowout Nationals was to take the Nitro Funny Bike MPH record, Qualify No. 1, and of course to win the race, which would have given our team the points lead," Doyle said.  "Right off the trailer I ran a 6.89 at 211.36, to break the class record next round a 6.851 at 213.92.  After that run we returned to the pits and made a gear change.  Our next round was even more exciting, We ran a 6.761 which made up No. 1 qualifier.  The first round of eliminations, We won with a cylinder out.  Second round we won again with a 6.797 at 216.29 to now break my own record, but was unable to back it up as we smoked the tire in the finals.  We are ready for a good showing in Bowling Green next month!"
The AMRA Bowling Green, Ky. event will take place April 25-26 at Beach Bend Raceway.