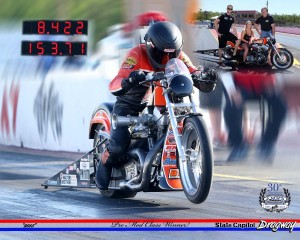 AMRA Pro Mod motorcycle racer Ryan Oehler sent along the following after his successful weekend at the 4th Annual AMRA Cajun Blowout Nationals at State Capitol Raceway, in Baton Rouge Louisiana, March 28-29.
"What an amazing weekend at State capitol raceway, in Baton Rouge Louisiana! #1 Qualifier right out the gate, the bike was extremely consistent and seriously powerful. We ran our personal best ET's and drove this bad boy sportster into the winner circle for the first time in my AMRA career! I entered this class three years ago, hoping be competitive right away. It didn't take very long to realize that this ProMod class was no joke. It was at that time I really learned what a pro class is and how hard my competitors had worked to get where they are today.
In preparation for this season opener at State Capitol Raceway, we rented a central Illinois dragway, in Havana IL the weekend before we headed to Baton Rouge. With our freshly built S&S 113 ci sportster motor and some decent weather we was able to run our quickest 1/8 times to date and really prepare ourselves for the upcoming weekend at State Capitol Raceway. We arrived a day early and set up a photo shoot on the starting line for our upcoming 2016 AMRA ProGas / ProMod Calendar and had a blast all day. That night we fired the bike and made a test past for the huge crowd from the Friday night local test and tune, clicked off an 8.475 @ 151.41 mph. That gave us the confidence that everything was working properly and that we were ready Saturday qualifying. First hit on Saturday qualifying was our new personal best ET of 8.437 @ 152.23 mph. We was able to lower that to an 8.422 @ 153.71 in round three which put us in the #1 qualifier position.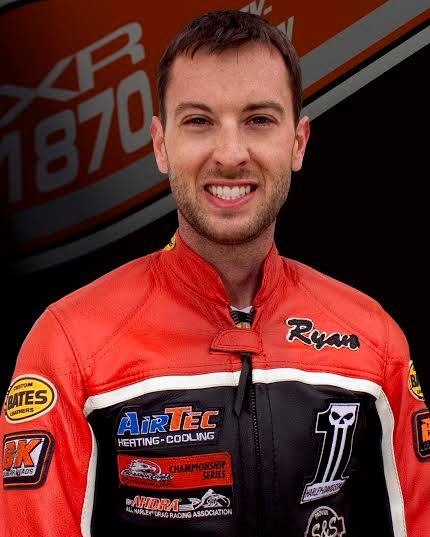 Going into Sunday we just tried to focus on making solid passes and getting from point A to B, and we did just that. Round 1 of the elimination we had a good reaction time of .050 running a an ET of 8.457 @ 153.08 mph, which gave us the win of Jerry Lee Cloyd from Kokomo Indiana. We made it to the finals and ran an identical time of 8.457 @ 153.11 mph with a reaction time of .031 to defeat Gary Douglass ( along time ProMod veteran). All I kept telling myself was to cut a safe light and just repeat what we had been doing all weekend, and when we staged and the tree dropped I just reacted to my natural instincts and let it rip. It was like the whole world stopped as I stared into the green light waiting to see it light up, it felt that I moved 20 feet in slow motion before I finally saw green, what a relief. I knew I cut it too close, but I also knew Gary wasn't going to cut me any slack. After that I banged all the gears and flew through the finish line and at that time I knew that I had just won my very first AMRA Pro Mod event!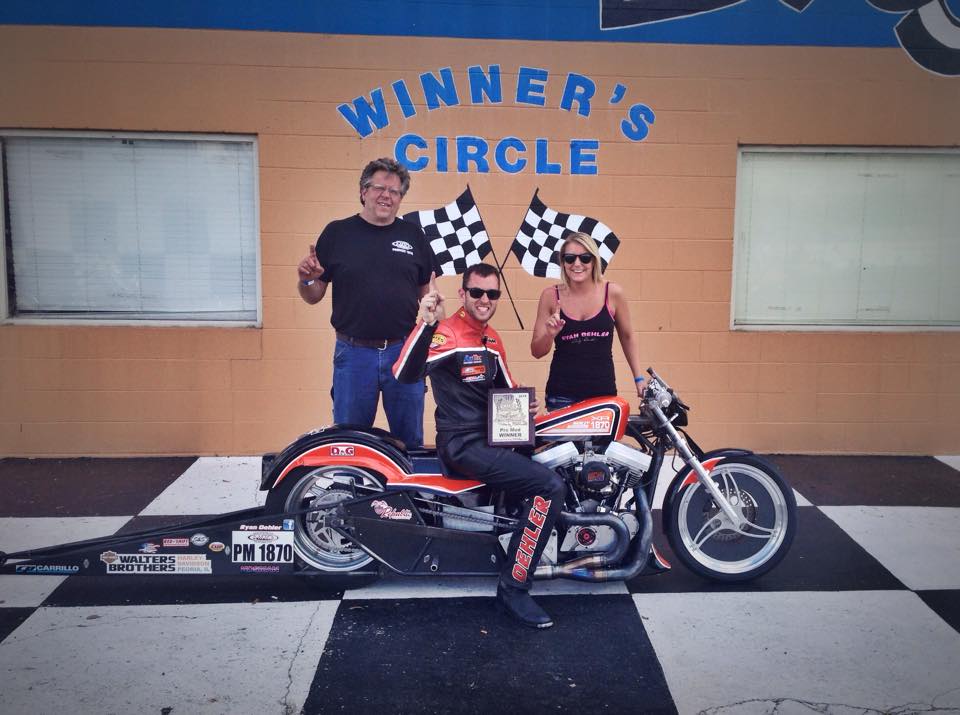 The timing for this win couldn't be better, with the Star Racing Riders Challenge only 3 weeks away. I now have a serious confidence booster going into this amazing competition. I have been preparing for this challenge for the last 3 months and now it just around the corner. I can't wait to head back to Gainesville and step on George Bryce's and Star Racings school bikes and let my completion see what im made of! I appreciate everyone support, and stay tuned for more updates as we get closer to the upcoming Star Racing Riders Challenge.