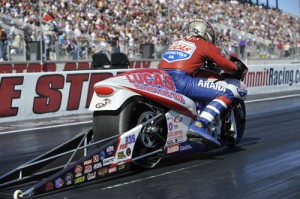 Since missing out on the No. 1 spot for the NHRA's Countdown to the Championship in Pro Stock Motorcycle by just a few points, defending class champion Hector Arana has been a man of singular focus — getting his Lucas Oil Buell ready for the postseason.
Like a mad scientist, Arana had locked himself away from distractions from the outside world, while he has worked day and night on his motorcycle engine. He emerged last weekend with a bike that he is confident can defend his title and maybe even win this weekend's 56th annual Mac Tools U.S. Nationals presented by Lucas Oil at O'Reilly Raceway Park.
"We've got new rings, new pistons, and a fresh bore," Arana said. "We tested it in Ohio and we're happy with the results. That's all I'm gonna say."
After the points reset after Brainerd, Arana starts the playoffs in second place, 30 points behind leader Andrew Hines. The rest of the Pro Stock Motorcycle field is lined up behind Arana with each rider that fills out the top 10 separated by just 10 points each.
With the points being so close and the margin for error so narrow, Arana said that getting off to good start at the U.S. Nationals is going to be important.
"It's going to be huge," Arana said. "The Countdown is starting and we'll see what happens and who comes out of that race with the points lead."
The U.S. Nationals is the longest event of the season for the pros, but Arana doesn't mind. He's thankful to have more time over the handlebars of the Lucas Oil Buell.
"I'm looking forward to the extra day of racing," Arana said. "It gives me an extra run."
Against the backdrop of preparing for the Countdown, Arana is also helping his son, Hector Jr. prepare for his NHRA debut later this fall in Charlotte.
"During our test, I made two runs and Hector made one," Arana said. "He did excellent as well, so everything went well there."