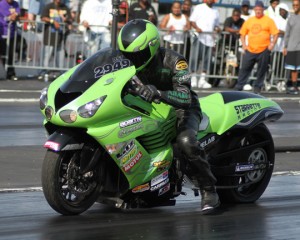 Ohio teenager Jeremy Teasley laid down a perfect final round qualifying lap to set a new street legal nitrous record of 7.19 on the Adams Performance/RS Motorsports Kawasaki ZX14 and claim the number 1 Orient Express Pro Street spot for the Schnitz Summer Sizzler at North Carolina's Rockingham Dragway. Winner of the previous two Pro Street races in Maryland, Teasley has been on a roll and the team has gained a high level of comfort tuning the long, lime green bike in the heat of the summer.
"Kawasaki's provided drag racers an amazing platform with the ZX14," said bike builder Coby Adams. "That's been obvious for the last couple of years with all the wins that guys like Jeremy, Rickey Gadson, Mark Billiter and others have been getting. Steve Earwood's staff at Rockingham gave us a great track to work with on a very hot weekend and our sponsors provide us with parts that are the absolute best. There's no way we could run like this without them. JE Pistons and Carrillo Rods stepped up to help us push and find the limit of this bike, if there is a limit. And Rob Muzzy's been a major contributor, helping with our race program since 2002. He's always supplied us with top of the line racing products and helping us break records and win championships. Rob's definitely helping our assault on the class record (7.11)."
So the team expects that 7.19 will soon be a distant memory as they shoot for the all out record and aim for what seems nearly unthinkable—the first street legal 6 second pass by the end of the season. "Roger (bike owner Roger Starrette) told me he really wants to go for it. Two tenths is a lot of ground to make up, and I'm not sure we can get there that soon. But we're allowed an auto shift transmission and we're not using that yet, and we could shave some weight off here and there, so maybe. We'll see. We also haven't done anything exotic with our motors. These are the same as we use on the Real Street bikes, and we have a lot of them. Roger says he's willing to sacrifice them all to make this happen."
"As impressive as the 7.19 was, and the awesome riding Jeremy did, there is more in it," said crew chief Garron Miller. "He short shifted into second to keep the bike down. As the logs in the AEM stand-alone show, there's tons left in this rocket. As long as we keep taking off a tenth each race we'll be on target for the 6 second pass. We will keep turning it up until we reach our goal. We can't wait 'til Maryland!"
The team swapped motors in Jeremy's Pro Street bike between the first and second rounds of eliminations at Rockingham. As a result of the thrash, a slightly misadjusted clutch pulled Teasley through the staging beams in round 2, prematurely ending the team's run in the class. Fortunately, Teasley's championship points rivals also went out early.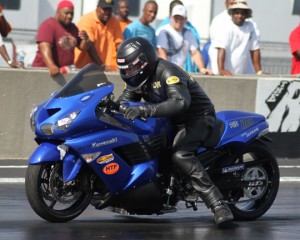 Jeremy's huge HTP Performance Real Street points lead caused the team to sacrifice that class at Rockingham and focus on setting records and gaining points in Pro Street. He lost to boss Adams in round 1 of Real Street on Sunday when Coby drove around Jeremy at the big end. Coby made it to the semis before dropping the round to eventual race winner Caleb McDougald. Adams/RS team member Billiter qualified second with a sweet 7.90 before a clutch problem ended his raceday early. "Rickey Gadson also had an impressive Real Street outing at Rockingham with his new Adams Performance powerplant," said Coby. "He was stoked that he went 8.30 on motor, then juiced the Adams ZX14 spray bar kit and went a 7.84—just a hundredth off the record. The spray bar kit is now available on our website at www.adamsperformance.net.
"I want to give a shout-out to Dave, Ray, and Steve that help us at the track, and Jeremy's dad Crow and the whole Teasley family. Running all these bikes is hard work under the best of conditions, but with the heat and having Roger there on Saturday only, Rockingham was especially hard."
Starrette missed Friday testing and Sunday's eliminations because he lost his father Jack the day before the Rockingham event. Tuning to the nitrous Pro Street record and hectic track activity were welcome distractions for Roger, and it's perhaps a measurement of his importance to the team that raceday did not fare as well for them as qualifying. Godspeed Jack Starrette.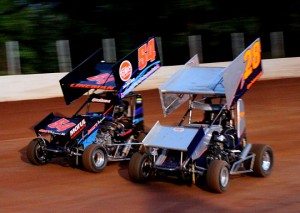 In addition to the team's motorcycle drag racing success, Adams is also thrilled with the success of the 600cc motorcycle engine-based mini-sprint car teams using Adams Performance motors this year. "Justin Lineman in the Carolinas and Jim Young in Pennsylvania have been driving their asses off with the motors we've been giving them," said Coby. "And Darren Hastey has already locked in the East Lincoln Speedway championship here in North Carolina. Muzzy is now helping our mini-sprint program and building our race design headers. That has netted us three horsepower over every other header on the market that we've dynoed." Accomplished driver Adams drives both mini-sprint and full size V8 sprint cars around the Carolinas when he's not out drag racing.
The Adams Performance/RS Motorsports' summer of records and championship runs hits the track next on October 2-3 at Maryland International Raceway in Budd's Creek.