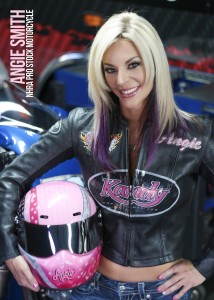 Kandy Magazine and Matt Smith Racing announced today an extension of their sponsorship of Pro Stock Motorcycle racer Angie Smith for the next four NHRA Mello Yello Drag Racing Series in Norwalk, Ohio, Denver, Colo., Sonoma, Calif., and Indianapolis, Ind. In the interim, Kandy and MSR also plan to continue negotiations to fund Angie Smith's championship bid through the six-race Countdown to the Championship beginning in mid-September. Smith, the wife of current NHRA champion and team owner Matt Smith, recently celebrated her first NHRA victory at the New England Nationals in Epping, N.H.
"Angie's performance has been lights out; no pun intended", said Ron Kuchler, Kandy Magazine president. "So far we've had an amazing experience racing with Angie. Her inaugural win in Epping was the icing on the cake and we look forward to building our brand alongside Angie and the entire MSR team."
"I'm ecstatic to have Kandy Magazine renew our deal for four more races," said Angie. "This partnership is a perfect fit for me and the team. I could not ask for anything better. With a win and semifinal appearance in the last two races, I also couldn't be happier about our performance and I know there is more to come. I'm grateful to Kandy for believing in me."
Equally as enthused is Kandy Magazine vice-president Bill Nychay, who added, "I just knew this was the right fit, I have marketed many programs over the years using NHRA as a platform and nothing we've done has ever felt so right. Our Kandy girl promotional models have been a big hit with the fans, and since beginning our association with Angie, our online magazine downloads have increased over 80-percent. Recently, Kandy was the No. 1 ranked U.S. magazine app in the world. We attribute much of this success to our marketing relationship with Matt and Angie Smith and NHRA."
The sponsorship agreement will continue with Kandy branding on Angie's bike, uniform, team shirts, and trailer. The famous Kandy Girls will continue making personal appearances at select events taking pictures, and giving away complimentary Kandy Magazine merchandise.
In a related announcement, Angie Smith has also signed an associate agreement with Petrolhead Apparel for the next four events. The Petrolhead brand will share space with Kandy Magazine on Smith's 195-mph Buell Pro Stock Motorcycle for the events in Norwalk, Denver, Sonoma, and Indianapolis. The Petrolhead Apparel brand made its debut at last weekend's NHRA event in Joliet, Ill. Petrolhead also recently inked a sponsorship agreement with Smith's teammate, Scotty Pollacheck. The Petrolhead brand is co-owned by longtime racer Bill Windham and Ben Carey, the lead guitarist of the multi-platinum band Lifehouse.
"Through our recent association with Scotty Pollacheck we've gotten to see the inner-workings of Matt Smith Racing and we've been particularly impressed by Angie following her recent win in Epping," said Windham. "We wanted to do our part to make sure that she can continue to compete at a high level and challenge for the 2014 championship so we've worked with Kandy Magazine to keep her on the tour for the next four events. It's my hope that this will be just the start of a long and prosperous association."
For More information or sponsorship opportunities with Matt Smith Racing contact:
Colbert Seagraves cseagraves@triad.rr.com or (336) 764-2898
Kandy Magazine is the fastest growing men's lifestyle brand in the world, covering the latest in movies, music, tech, sports, and of course the famous Kandy Girls. Its' men's magazine app was ranked #1 in the world on iTunes in January 2014 and is downloaded in 140 countries.