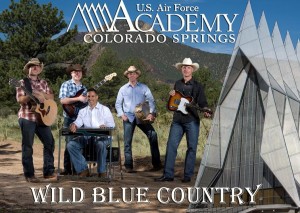 The Western Motorcycle Drag Racing Association (WMDRA) is thrilled to welcome Air Force Academy Band, Wild Blue Country, to Sturgis Dragway on Wednesday, August 6 to perform the National Anthem and Opening Ceremonies for our 3rd Annual AMSOIL Sturgis Nationals.
"Our drag racers and drag racing fans are some of the most patriotic folks in the country and we're so honored to have the Air Force Academy Band join us at the track," said WMDRA President Sandra Alberti. "God Bless America!"
The United States Air Force Academy Band proudly represents the Air Force Academy as the leading educational institution developing and inspiring air and space leaders of character with a vision for tomorrow. As one of eleven Air Force bands, the Academy Band maintains a rigorous performance schedule in support of Cadet and Air Force troop morale, recruiting and community outreach. For over 50 years, the Academy Band has used the power of music to inspire Air Force personnel and the nation they serve, and communicate Air Force excellence to millions around the globe.
Versatility, broad repertoire, and show-stopping professionalism enable Wild Blue Country to support every Air Force mission, from local and international community relations to recruiting and deployed troop support. A favorite in country music circles, Wild Blue Country has regularly been featured on the Grand Ole Opry and television shows like Nashville Now and Opry Back Stage. They have appeared with country recording artists such as Charlie Daniels, Hank Williams, Jr., and Reba McEntire just to name a few. Wild Blue Country has also appeared on "Good Morning America" as well as many other TV and radio shows around the country. As a favorite of military and civilian audiences alike, Wild Blue Country continues to captivate and entertain audiences through their worldwide appeal.
According to USAF Technical Sergeant Jeff S. Valentine, steel guitar, "We will be performing in and around the Sturgis area for Military Appreciation events throughout the Rally, but are really excited to be able to perform at Sturgis Dragway." He added, "We can't wait for the 200+ mph Nitro Harley's to fire up as our '…home of the brave' finale!"
Opening Ceremonies for the 2014 AMSOIL Sturgis Nationals will begin promptly at 3:00 p.m. on Wednesday, August 6 at Sturgis Dragway, located at 20523 Hwy 79 in Sturgis, just 3.7 miles East of downtown on SR 34, then 0.8 miles North on SR 79.
Competition qualifying begins on Tuesday, August 5 at 3:00 p.m. with final eliminations on Wednesday. You won't want to miss the Top Fuel Nitro bikes and 10 other classes of competition as racers take to the track to be crowned Sturgis Champion! Tickets are just $15/day or $25 for the two day event. For more information, please contact the WMDRA at (208) 850-5795 or info@westernmotodrags.com.