Defending Rocky Mountain Nationals Nitro Funny Car champion Tim Nemeth opened up the 2014 edition of IHRA's biggest race with another chart-topping pass, making a strong case for a repeat at the IHRA Mopar Rocky Mountain Nationals presented by Good Vibrations Motorsports and Parts Canada Friday at Castrol Raceway.
Ike Maier (Top Fuel), Troy Sitko (Pro 6.90), Nate Gagnon (Nitro Bike), Elaine Larsen (Jet Dragster) and Joe Delehay (Pro Mod) also were qualifying leaders at the IHRA Nitro Jam Drag Racing Series event in Edmonton, Alberta.
Nemeth, in the "Iceman" '77 Firebird nostalgia machine, blasted to the top of the charts with a 5.941-second shot at 241.58 mph to pace IHRA's Amsoil Nitro Funny Car class in front of his home crowd in western Canada. Devery Howard, in the Twig Zeigler tribute '74 Satellite, was second with a 6.087 at 235.80 and Nathan Sitko was third with a 6.232 at 232.31.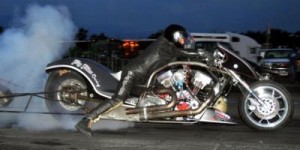 In Drag Specialties Nitro Bike, IHRA's most recent race winner Nate Gagnon paced the nitro-powered motorcycle class with a 6.670 at 217.53 as he looks to make it two-in-a-row in Canada and repeat as champion at this event. Mike Pelrine qualified second with a 6.716 at 214.52 and Damian Cownden was third with a 6.817 at 211.69.
Joe Delehay paced the Pro Mod field at Castrol Raceway
Troy Sitko qualified first in the Pro 6.90 Funny Car class, running closest to the index with a 6.918 at 196.93. Jim Fersch was second with a 6.924 at 202.30 and Reg DeForest was third with a 6.931 at 199.11.
In Pro Modified, Joe Delehay paced the wild doorslammer class with a 6.046 at 239.40, followed by Ross Hogenson at 6.119 at 234.78 and Toni Moretto at 6.133 at 232.19.
Rounding out the field was Ike Maier, who had the quickest pass of the night in Top Fuel Dragster with a 5.068 at 251.06, while Elaine Larsen had fastest lap of the night with a 5.931 at 259.71 in Jet Dragster.
The IHRA Mopar Rocky Mountain Nationals will continue on Saturday with final qualifying for all Nitro Jam Drag Racing Series classes and the first day of the Summit Racing Equipment Pro-Am Tour presented by AMSOIL.
Nate Gagnon looks to win his second IHRA Nitro Jam event in a row
FRIDAY RESULTS
Edmonton, Alberta – Qualifying from the 2014 IHRA Mopar Rocky Mountain Nitro Jam Nationals presented by Good Vibrations Motorsports and Parts Canada at Castrol Raceway
Top Fuel Dragster – 1. Ike Maier 5.068, 251.06; 2. Bruce Litton 6.101, 149.40
Amsoil Nitro Funny Car – 1. Tim Nemeth 5.941, 241.58; 2. Devery Howard 6.087, 235.80; 3. Nathan Sitko 6.232, 232.31; 4. Tim Boychuk 7.788, 119.27; 5. Jordon Pawlick DQ
Pro 6.90 – 1. Troy Sitko 6.918, 196.93; 2. Jim Fersch 6.924, 202.30; 3. Reg DeForest 6.931, 199.11; 4. Roddy McMillan 6.996, 189.98; 5. Cal Tebb 6.997, 200.41; 6. Ryan Hodgson 7.011, 200.35; 7. Joey Steckler 7.033, 202.42; 8. Shane Reykdal 7.035, 193.35; 9. Allan Weich 7.040, 192.33; 10. Norm Kolwich 7.055, 201.73; 11. Cody Anstead 7.204, 188.96; 12. Darrell Webb 7.233, 194.32; 13. Cory Kincaid 7.234, 194.24; 14. Scott Bourdin 7.359, 187.76; 15. Darrell Pelrine 7.657, 183.79; 16. David Brant 8.086, 160.82; 17. Landon Goudreau 6.878, 209.39
Drag Specialties Nitro Bike – 1. Nate Gagnon 6.670, 217.53; 2. Mike Pelrine 6.716, 214.52; 3. Damian Cownden 6.817, 211.69; 4. Craig Pelrine 6.919, 203.92; 5. Kevin Boyer 21.234, 53.50
Jet Dragster – 1. Elaine Larsen 5.913, 259.71; 2. Dawn Perdue 6.004, 257.73; 3. Kat Moller 6.608, 161.67; 4. Marisha Falk foul
Prod Mod – 1. Joe Delehay 6.046, 239.40; 2. Ross Hogenson 6.119, 234.78; 3. Toni Moretto 6.133, 232.19; 4. Glen Kerunsky 6.288, 228.34; 5. Dale Pedersen 6.366, 223.32; 6. Garry Weslosky 6.418, 213.94; 7. Wade Sjostrom 6.572, 229.39; 8. Mike Gondziola 6.651, 166.64; 9. Tom Reithmayer 6.834, 212.76; 10. Ray Leyten 6.959, 197.65; 11. Darryl Stone 7.150, 205.88; 12. Dan Vogt 8.669, 113.66; 13. Kerry Stone 9.076, 107.95; 14. Paul Glandon 13.585, 66.01; 15. Wayne Hofer 22.135, 34.14