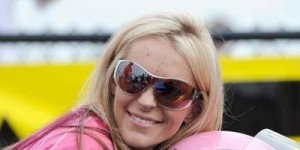 Angie Smith is ready for Norwalk this weekend. Smith came off a very bittersweet weekend in Englishtown a few weeks ago. The drag racing beauty was running well during qualifying. She qualified herself in the top half of the field, but had to run her husband first round, who eventually won the race.
"We ran great at Englishtown," said Smith. "We had to run Matthew first round and we were both so fast, he was just a tic faster. Good thing he won the whole race."
"I am excited for Norwalk this weekend though. I glad to get back to the track and hope to run well again. Just don't want to run Matthew till we get to the Finals."
Smith is hoping for a good outing not only for herself, but for her team. She is desperately needing sponsorship. Coffman Tank Trucks has been helping out her out this year, but she is looking for a main sponsor for the rest of the NHRA Full Throttle Season.
"We definitely need a sponsor. We have been getting by this year with help from the Coffman's, which I am so grateful for, but we just need some more in order to keep moving forward. Hopefully we can run well this weekend and catch the eye of some sponsors."