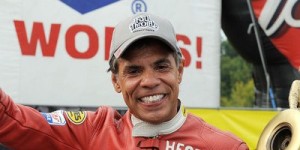 Lucas Oil Buell rider Hector Arana Sr. hopes history repeats itself at this weekend's fifth annual Summit Racing Equipment NHRA Nationals at Summit Motorsports Park. Arana Sr. earned the first win of his Pro Stock Motorcycle career at this race in 2008 and is taking steps to ensure a repeat this weekend.
First, Arana Sr. and his family plan a return trip to the Cedar Point Amusement Park in Sandusky, Ohio.
"I'm trying to focus and capture the moment, so I can be back in victory lane," Arana Sr. said. "That event, we took off on Thursday and went to Cedar Point. We spent the whole day there having fun. So our plan this week is to get to the track Thursday, set up our pit real quick, and go back to Cedar Point and have a great time.
"I think it's looking good. It even rained a little bit on that Thursday, and it's supposed to rain this Thursday, too. It's looking good."
Is Arana Sr. superstitious?
"I won't mind if all the planets and the stars fall into place," Arana Sr. said with a laugh. "How's that?"
The Norwalk victory was the first of Arana Sr.'s six national event titles, with his last in his championship year of 2009.
He's currently sixth in the Pro Stock Motorcycle points standings, getting three round wins this season and qualifying in the top half of the order in all four races.
"I know the first couple races, all my focus was on Hector Jr.," Arana Sr. said of his son, a rookie in the class. "Starting from Englishtown, I have let them make their calls. I still watch them, and if I see something wrong, I'll say, 'You sure you want to do that?' But I'm focusing more on my program, and that's the key."