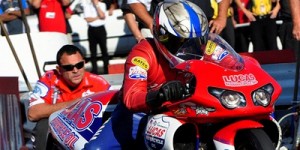 Lucas Oil Buell rider Hector Arana Jr. has his sights set on two goals as he heads to this weekend's fifth annual Summit Racing Equipment NHRA Nationals, and with a new motor named after his mother Grace, he just may have the horsepower and mojo to get things done.
Arana Jr. is a rookie in the Pro Stock Motorcycle class and remains a contender for the Auto Club Road to the Future award as the NHRA's top first-year competitor. But before he worries about that goal, he wants to make sure he secures a spot in the top 10 by the time the NHRA's playoffs — the Countdown to the Championship — begin in September.
"Of course, it's still early in the season, and we haven't gotten to the Countdown yet," Arana Jr. said. "As of right now, I'm in the 10th position, so I'm in the Countdown, but just barely. I don't plan to go backwards. I hope to get better and better every race. Once we get that locked up, then I'll think about the rookie award a lot more."
Arana Jr. knows he has some stiff competition for top rookie, including Pro Stock driver Vincent Nobile, who already won an NHRA national event this season.
But Arana Jr. has made steady progress after missing the first race of the season, getting elimination round wins in both Houston and Atlanta. Winning the Road to the Future award would mean a lot to the 22-year-old, if it comes to pass.
"That would mean everything," Arana Jr. said. "That's my ultimate goal. Of course, I'd love to win the championship also, and if I'm lucky enough to win the championship, the rookie of the year title should follow right with it.
"Winning the rookie title was my top goal for this year, but you have to take things one step at a time."
Arana Jr. will have a new engine at his disposal for Norwalk, as his dad, Hector Sr., decided to build a new powerplant for his son.
"We had some issues in Englishtown," Arana Jr. said. "That's one of the things that threw us off our game. But we're going to come back this weekend at Norwalk fighting strong. We're going to put a brand new motor in his bike. 'Gracie' is her name, and she's going to kick butt.
"I'm giving Hector the meanest of the baddest."