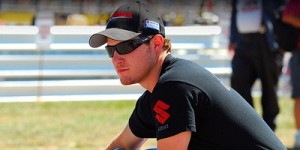 Having just broken into the top ten in NHRA Championship points, Pro Stock Motorcycle rider Jim Underdahl is hoping to maintain his positive momentum this weekend at the Summit Racing Equipment NHRA Nationals at Summit Racing Equipment Motorsports Park in Norwalk, Ohio. The 25-year-old former Minnesota state wrestling champion said he is planning to make a quick offensive move in qualifying and then work for to get his Suzuki Extended Protection motorcycle to the winner's circle.
"We've definitely scored a reversal and are trying to grapple our way through the competition to move up in points," Underdahl said. "We had struggled a bit in the first few races with our setup, but we're really ready to hit it hard this weekend.
"Dad [former PSM rider Greg Underdahl] and Ben [Kriegsfeld, crew chief] made some good decisions in Englishtown with the setup, and we're really just going to key off of that.
"Weather reports say we'll be wrestling with rain on Friday but we should have a nice cool day on Saturday, so we should really see some decent times if it stays dry. I do know that every qualifying lap will be critical, because we don't know how many we'll get. We'll have to come out quick," he said.
Whether it's a half-nelson, a fireman's carry or even a cradle, Underdahl said his team will make the moves it needs to come out on top. "It's kind of like wrestling with a team, and making the right choices and setup moves is what it's all about. This should be a great weekend," Underdahl added.