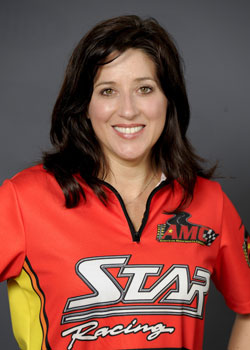 One thing that concerned three-time Pro Stock Motorcycle world champion Angelle Sampey when she returned late last season after not racing since 2008 was if she still had the same fire and drive as before.
It has not taken long for Sampey to realize that her competitive spirit is still alive and well. The winningest woman in NHRA Mello Yello Drag Racing Series history is eager for a victory on her Star Racing Buell, a matter compounded by Sampey's glowing review of the bike that crew chief George Bryce and the team have given her.
Sampey has started slow through the first two Pro Stock Motorcycle events, but she feels confident that a breakout performance is coming. Considering Atlanta Dragway is the home track for her Star Racing team and home to four of Sampey's 41 victories, the 35th annual Summit Racing Equipment NHRA Southern Nationals, May 15-17, might be the perfect location for it to happen.
"I still want to win as much as before," Sampey said. "I thought I might have lost it, but it didn't take long to realize I'm still obsessed with winning. That's why it's so mentally tough right now. I haven't seen this team as willing and ready and motivated to win possibly ever. Everybody is completely rejuvenated. I want to win so bad for them. The bike is so fast, and I just need more seat time and practice. I think I still have it."
Spencer Massey (Top Fuel), Robert Hight (Funny Car), Jeg Coughlin Jr. (Pro Stock), and Eddie Krawiec (Pro Stock Motorcycle) were last year's winners of the event that will be contested at Georgia's House of Speed, just northeast of metro Atlanta. The event, which will be televised on ESPN2, is the third of 16 events for the Pro Stock Motorcycle class and a golden opportunity for Sampey, who is sixth in the points standings, to make a move toward the front of the pack.
Her return late last year was one of the big stories of the 2014 NHRA season, and Sampey qualified at the three events she entered before suffering an ankle injury during pit setup for the Las Vegas race. That injury has lingered through the early portion of 2015, and Sampey is still working to get back in her groove.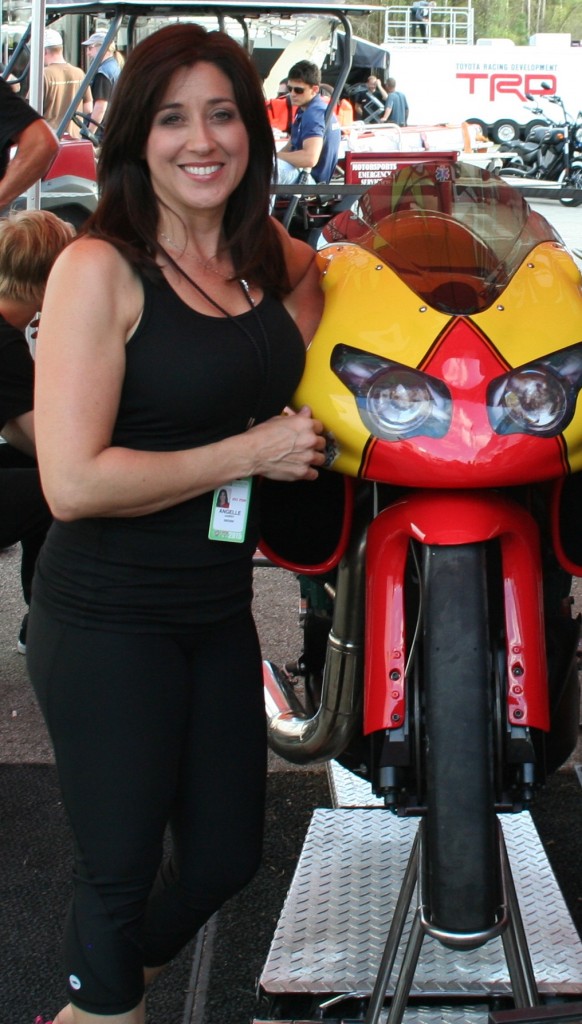 "George and this team have provided me with a great bike and a good enough one to win a race," said Sampey, who has one round-win through two events in 2015. "I haven't been doing the best job driving, but the motorcycle is really fast, and this team is really determined to win."
Atlanta Dragway, one of the fastest tracks on the NHRA Mello Yello Series circuit and a perennial racer favorite, has provided plenty of good memories for Sampey. Her four victories (2004, 2002, 2000, 1999) rank as the most among active riders in the two-wheel category, but she admits that the track may be different from the last time she raced there in 2008.
Sampey also has to deal with an extremely deep Pro Stock Motorcycle class, which includes three-time world champ Krawiec, who picked up his third win at the facility a year ago, four-time and defending world champ Andrew Hines, two-time world champ Matt Smith, Hector Arana Jr., 2009 world champ Hector Arana Sr., Gainesville winner Karen Stoffer, and class veteran Steve Johnson.
"It's mostly a challenge for me just to relearn the track," Sampey said. "I used to know everything about them, and now I'm having to go through that all again, especially if they've changed some things. It's all about learning the motorcycle and getting back into the groove. I know we have a fast motorcycle, I just have to show it. I'm really looking forward to it. Hopefully we'll go to Atlanta and make perfect, straight passes."
The Summit Racing Equipment NHRA Southern Nationals also marks a special time for Sampey and her Star Racing team. Bryce and Sampey recently held the Star Racing rider's challenge, which started with 25 contestants and ended with one rider, Andrew Patterson, who earned an opportunity to ride the second bike for the Star Racing team in Atlanta.
The challenge, which covered every aspect of driving and drag racing on and off the dragstrip, proved to be a thoroughly exciting time for Sampey, who will head to Atlanta even more motivated because of it.
"It worked out really well, and it would have been one heck of a reality show," Sampey said. "It was a grueling competition, and we covered everything it takes to be an NHRA racer. [Patterson] is going to be with me everywhere I go in Atlanta. I think this was a great idea, and he's so excited about it. It was almost like the American Idol of drag racing, and now he gets to perform."